Boullier: Engine equivalency unworkable
| | |
| --- | --- |
| By Jonathan Noble | Thursday, May 26th 2011, 09:42 GMT |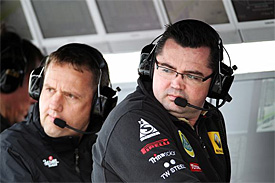 Renault team principal Eric Boullier thinks that the idea of having an engine equivalency formula in 2013 - with the current V8s running alongside the new 1.6-litre four-cylinder engines for one season - would be unworkable.
With a number of F1's manufacturers unhappy about the cost implications of switching to the new smaller engines in 2013, FIA president Jean Todt told them in Spain last weekend that he would be willing to offer a compromise of allowing a year's grace for the current power plants.
But with tremendous complications from trying to ensure that both types of engines would perform the same, as well as there being little cost saving in the move, there has been some scepticism that the plan could be put into place.
And Boullier, who thinks that a final decision on the matter needs to done soon in a bid to end uncertainty over future rules, has joined those who believe that an equivalency formula cannot help.
"I don't see, to be honest, the V8s running at the same time as the four cylinders," Boullier told AUTOSPORT.
"It is too extreme and, to balance the performance would be a nightmare and a headache for the FIA.
"I think it was, as Bernie [Ecclestone] said [in Spain], a nice offer from Jean to try and find a compromise, but I think they, the engine manufacturers, need to see if they really want to do it. And, at some stage, we need a decision technically because it is a bit confusing for everybody."
Although parent company Renault is wholly in favour of the new four-cylinder engines, F1's other manufacturers are not so eager for the move – with Cosworth, Mercedes-Benz and Ferrari believed to have written to the FIA to express concerns about the 2013 plans.
For more about the future of engines in Formula 1, read the Weekly Grapevine.