Concerns over Ste. Devote asphalt
| | |
| --- | --- |
| By Jonathan Noble | Wednesday, May 25th 2011, 17:39 GMT |
Formula 1 drivers have admitted that there is some concern about the state of the asphalt on the entry to Ste. Devote at Monaco, after the track surface had to be relaid on Tuesday night because of a truck fire.
A blaze onboard a lorry at Monaco's famous first turn on Tuesday caused damage to the track surface right on the racing line, and emergency repairs had to be carried out overnight.
The newly-laid asphalt will have been down for little more than 36 hours before opening practice for Monaco begins - which could lead to the risk of it not having settled in time before F1 cars run over it.
Force India's Paul di Resta said on Wednesday that that could cause some problems - with the risk of it breaking-up if it has not sealed properly with the surface surrounding it.
"The track was resurfaced there about four weeks ago, and it had obviously settled quite nicely," explained di Resta.
"My concern is that it happened right on the entry and the apex and, with the heat we've got now, with temperatures not going much below 20 degrees and with track temp at 45 during the day, is how that's going to cure.
"But having looked at the patch, I think they've done an amazing job, and it just shows you how efficient they are here. When these guys get together they could teach a lot of different tracks at how flexible you need to be to make places like this happen. The difference overnight is incredible."
Di Resta said he had been on a track walk with the BBC when the lorry fire started – so he witnessed the event for himself.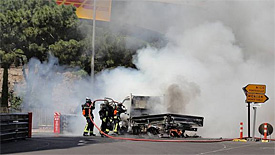 "We were stood there watching it," he explained. "I just saw a hell of a lot of smoke, and by the time we got there tyres were popping and jerry cans exploding."
Nico Rosberg believes that the biggest problem with the new area of asphalt could be of the oil coming to the surface.
"It might just make the tarmac oilier or something because it's fresher than the other tarmac around," said the Mercedes driver. "That could be a bit of an issue."
Lotus driver Heikki Kovalainen added: "It is in an area where potentially you put some stress into the surface because of the grip of the tyre under braking. You are potentially giving the asphalt a hard time. It could be an issue.
"I think we need to keep an eye on it. If it starts to break up, it could become a big issue, so let's see how good a job they have done. Hopefully it works out well, but it's not in an ideal place.
"If it was in the middle of a straight, you wouldn't care about it at all but under braking, in a place where the car is being compressed downhill under braking, it will give the tarmac a hard time."
Despite the concerns of some, other drivers were going to wait until first practice before finding out what consequences the new surface would have on running.
Mark Webber said: "I won't go and have a look at it until tomorrow, because I can stand and scrape my foot on it as long as I want but until I drive the car on it I won't know what it is like.
"It's lucky it happened at Monaco though because they are not short of a few bob, so they can just get a truck down there and get on with it."