Q & A with Pirelli's Paul Hembery
| | |
| --- | --- |
| By Jonathan Noble | Tuesday, May 24th 2011, 11:09 GMT |
Ahead of the debut of the supersoft tyres in Monaco, AUTOSPORT talked to Pirelli's Paul Hembery about what to expect in this weekend's race.
Q. How will the supersoft be in Monaco?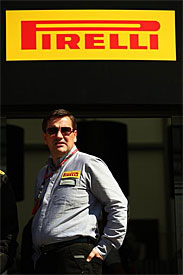 Paul Hembery: The peak of performance is definitely one lap. It will have that characteristic of a qualifying tyre so you will want to put in your best lap straight away and it will be a fast-wearing tyre. That is part of the plan, but I have to wait and see what it does in Monaco as I don't want to make a prediction because we have never been there with it. It is not going to be a 15-20 lap tyre for sure.
Q. Are those rough predictions?
PH: That is what we believe....they should be able to get clear.
Q. How long do you expect the soft tyre to last?
PH: Monaco is one of those circuits where, if you have slip and wheelspin you are in difficulty. That is often what you get in slow speed corners and you accelerate and get slip so you get a lot of grip from the tyre which is why we went super soft and soft, and pretty similar as to why we have gone that way for Canada.
If you go with a tyre that is too hard and it is not giving you an advantage from the compound you do get wheelspin and you get excessive consumption of the tyre and that probably for the public is hard to understand as the hard is going to resist more, no matter what you do to it.
But it is more complex, it is also related to how much wheelspin you get. We would like to see a two-stop strategy and based on Melbourne that should certainly be feasible on a low-speed circuit, although Melbourne doesn't have the really tight corners that it has at Monaco, so it will all be related to how much wheelspin we get and we will only see what when we get there.
Q. It's not a high degradation track, is it?
PH: No. Completely different from that point of view.
Q. Do you expect a lot of marbles?
PH: No, because Turkey obviously if you have four changes then you have more sets of tyres being worn, so if we are down to two changes then you say half as much.
Q. Will it be mixed up strategy wise?
PH: That is what we are hoping. I cannot judge what they are all going to do but somebody could envisage, in Monaco you want to qualify in front certainly the people in Q3. In Q2 you think I'm not going to get past anyone so I am better off starting on the soft and when they are pitstopping seeing if I can get in front, and probably in Q3 you will probably do two sets of soft and then on the final stint with light fuel load and get in lightning laps maybe on the front runners, and cars that qualified in Q3 who were on soft - so you have advantage of that and finding a way to squeeze past RBR.
Q. Do you expect people to sacrifice runs in Q3?
PH: I think that won't happen because they will be qualifying on the tyre they have less sets on, so that changes around. The faster tyre has been the soft one so they want to preserve as many as possible as they have one set left. Now with the advent of the new hard tyre that we see here, the new PZero, initial indications are it degrades less and it gives more laps than soft tyre so it takes away that disadvantage where hard didn't give big difference in terms of wear. So you can consider one pitstop left.
Q. Will saving a set still be valuable?
PH: Possibly but life is going to be short, you might get past them but you need to pit again. In FP, that is where they will working out permutations, it is in the hands of the engineers, they all have the same opportunity and if that enables us to see Monaco having a bit more interest and dramas that will be great, as Monaco is the most glamorous but one of the most boring from that point of view.
Q. With the drop off in performance being dramatic at the end of a tyre life, could drivers risk staying out because holding track position is possible?
PH: That is a warning sign to say get in pits, the drop is intended to be so big that the loss in performance is such that you really have to pit. That level of difference – I know there are only two places you can pass at Monaco, the tunnel might be busy. I also wonder how DRS will work, how flap is going to work. I cannot envisage that myself yet.
Q. How much testing have you done with super soft?
PH: Not a great deal now, run it a couple of times in private test and we know cars we have seen evolution, been quite sensational. They obviously have pretty bright people in these teams but development pace, minus 25% compared to end of season 2010 and look now, it hasn't taken them long to get a really strong performance package. We are also on a moving target. We study that and trying to work out strategy, work out what they are doing as races evolve, bringing parts, changing their strategies and way cars behaving.