Di Resta backs team's tyre gamble
| | |
| --- | --- |
| By Jon | Sunday, May 22nd 2011, 10:09 GMT |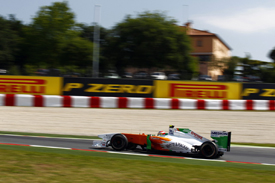 Paul di Resta believes Force India did the right thing in making a tyre gamble in qualifying - because he thinks it gives it the best chance of scoring points in the Spanish Grand Prix.
Both di Resta and Adrian Sutil were the only drivers not to run with soft tyres in Q2 – which left the duo down in 16th and 17th on the grid, but does at least mean they will have brand new soft tyres for the race.
Speaking to AUTOSPORT about that decision, di Resta says that with the team having struggled for speed in Barcelona, with a new upgrade package having not worked, Force India needed to go out and do something different.
"From a team's point of view we are not as happy as we would have liked to have been with our updates, but we can see a clear view of why we didn't run it," explained di Resta.
"We saw benefits – but we can only look to work and see what we can improve. We tried to optimise our race strategy as much as possible, having not run another set of softs in Q2, so we will see. On paper it looks better, but we will see in the race where we really stand."
Di Resta says experience in the past few grands prix shows that teams like Force India can see the chance of good points-scoring finishes slip through their fingers because their tyres go off at the end of the race.
"We've lost valuable points at the end of grands prix in a couple of races so far, so we have decided to go for another way," he said.
"I don't think we would score points if we had the same approach as everyone else, because we are not quite quick enough this weekend. Our pace just isn't there, so we have had to do something different."
Although Force India elected to remove its upgrade package after it did not deliver the right downforce balance in Friday practice, di Resta is optimistic than when the team gets it to work it will prove to be a good step forward.
"It has definitely got potential," he said. "We just need a bit of work. We've highlighted a few issues – and also you don't get much time to work with it on a GP weekend and you have to react quickly. Did we react too quickly? I am not sure.
"We came here relatively hopeful that it was going to be a big difference – and there are positives from it that we are analysing and working on. But having run the car we found weak spots that we have to work on to bring it back as a better package."