Cosworth worried about 2013 engine costs
| | |
| --- | --- |
| By Jonathan Noble and Jamie O'Leary | Friday, May 20th 2011, 15:50 GMT |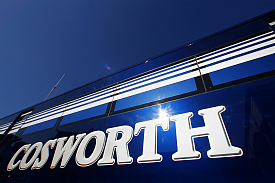 Cosworth is worried that the cost of Formula 1 engines could spiral out of control when new
regulations come into force in 2013.
The current 2.4-litre V8s will be replaced by turbocharged 1.6-litre units in two years' time in a bid to make cars more environmentally sound by increasing fuel efficiency.
FIA president Jean Todt is to meet with representatives of all F1 engine manufacturers on Saturday in the Barcelona paddock to discuss the progress each is making with their units.
Cosworth's F1 general manager Mark Gallagher believes that cost is one factor that still merits serious discussion and will raise the point with Todt.
Gallagher said: "The one aspect of the 2013 regulations that concerns us - and it is a significant concern – is that when we look at our customers and we consider the future from the point of view of business in F1, that we are here to service customers and we know customers don't have appetite to spend money on F1 engines.
"Costs remain an issue and regulations as currently drafted do leave a number of options to spend a great deal of money.
"With new regulations, while being welcome from the point of view of innovation, what would never be welcome is creating a financial space race. That is not what we want at a time when we are emerging from the most difficult economic time for many, many teams.
"We believe there is a responsible discussion to be had in terms of costs involved in 2013."
Gallagher stated that Cosworth, which currently supplies engines to Williams, Virgin and Hispania, is still intent on remaining in F1 beyond 2012, despite the company's concerns over costs.
"We're completely committed to F1 long term," he added. "I said last year when we came back to F1, that the three years Cosworth was away was something we didn't want to see repeated. We are back in F1 long-term and we are totally committed to 2013."
"But what we want to do is to be in F1 long-term and to provide highly-competitive engines, but engines that are also affordable and sustainable for our customers – because without that there isn't a business."