Ferrari not ruling out Hamilton swoop
| | |
| --- | --- |
| By Jonathan Noble and Matt Beer | Friday, May 20th 2011, 14:53 GMT |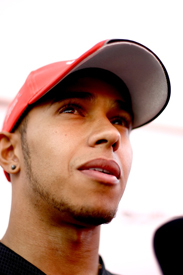 Ferrari team boss Stefano Domenicali says that Fernando Alonso's new deal through 2016 does not exclude the possibility of Lewis Hamilton joining the Italian team in that time.
Although Alonso's lengthy deal has been taken as a sign that Ferrari would be looking for a 'number two' driver to put alongside him, Domenicali said the door was always open to an established champion like Hamilton, regardless of Alonso's presence.
"I consider Lewis one of the top three drivers at the moment, the fastest drivers," Domenicali said.
"So in that respect for sure I consider him a potential driver for the strongest team, so I don't see why I have to say no to that question. Never say never in life.
"People can change and have a different approach, we see so many things going on everywhere in the world. Lewis is a strong driver and in the future who knows what can happen."
Domenicali preferred not to comment on how Alonso - who had a famously fractious relationship with Hamilton at McLaren in 2007 - might respond to being paired with the Briton again.
"If I speak about it, it is not correct for the other driver we have, who is Felipe [Massa], I want to feel that my drivers have a better atmosphere in the team, the focus is to make sure that both of them work in the best environment they can," said Domenicali.
"But in life, never say never. I don't want to say that that is a possibility, but I don't want to exclude the possibility. There are a few drivers that are really very strong, but speaking about this subject now it is not correct for the team now, I am focused to extrapolate the maximum value out of the drivers that Ferrari has."