| | |
| --- | --- |
| Gresini defends under-fire Simoncelli | |
| | |
| --- | --- |
| By Michele Lostia and Matt Beer | Tuesday, May 17th 2011, 16:35 GMT |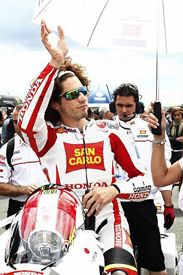 Marco Simoncelli's team boss Fausto Gresini believes the criticism his rider received after his clash with Dani Pedrosa at Le Mans was unfair.
Rivals had already been highly critical of Simoncelli's track manners when overtaking in the grands prix leading up to France, and the row intensified further on Sunday when Simoncelli turned across Pedrosa as he tried to complete an outside-line pass, causing the Spaniard to crash and break his collarbone.
Gresini accepted that Simoncelli, who was given a ride-through penalty for the incident, had been at fault. But said the level of flack he was received was not justified.
"I'll make a preamble to get things clear from the start: I'm terribly sorry that Pedrosa, another Honda rider, a contender for the title who was supposed to test the 1,000cc, got hurt," Gresini told Gazzetta dello Sport.
"Surely Marco made a mistake for which he got sanctioned. But I don't accept that this boy is crucified as if he was all the evil. It sounds as if he's killed someone. We've seen a punch being worth 5,000 euro, and someone else not being punished after getting another rider to crash. And if we look closely, [Jorge] Lorenzo's move on [Andrea] Dovizioso was tougher than Marco's."
He also hit back at Pedrosa's mentor Alberto Puig, who has been outspoken on the subject of Simoncelli's mistake, with Gresini comparing the Le Mans crash to Pedrosa taking out his then-team-mate Nicky Hayden as the latter chased the title at Estoril in 2006.
"I'd like to try to tone down the polemics, but I can't accept some views, even though I understand they come from a hurt person," said Gresini. "But I'd like to remind people with short memories that what happened at Estoril in 2006 was maybe even worse."
Gresini hopes the situation will calm before next month's Catalunya GP, and suggested that Simoncelli had only become a target for his rivals' criticism because he is so much more competitive this year.
"I want to try to dissipate the enormous pressure they've put on Marco's shoulders," Gresini said. "Maybe it's the effect they had hoped for now that he's going quick, while last year he wouldn't worry anyone. I only demand precise rules for everyone: I wouldn't want them in the end to take it out on us, the small guys."
Simoncelli added that he now accepted his move on Pedrosa was a mistake, but still feels he is being victimised.
"I've re-watched many times the crash and with hindsight I could have perhaps left a bit more space," said the Italian rider. "However, he got off the brakes. Surely I made a mistake with my strategy, because I was a lot quicker and I could have made my move a bit later and risked a lot less.
"I keep on being very sorry for what Dani is going through, but I feel I haven't been more aggressive than others in similar situations. I'm convinced of that, even though everyone else thinks the opposite. I've searched my soul and I believe I did not exaggerate. Even if the others think differently I can't change my view. Even if the whole world says one thing, I don't think that it's necessarily true.
"Anyway, I've certainly learned a lesson and I'll be more careful in the future; I'll try to pick a better time to make an overtaking move, maybe by leaving a bit more of a margin."