Q & A: Button on Silverstone revamp
| | |
| --- | --- |
| By Jonathan Noble | Tuesday, May 17th 2011, 15:36 GMT |
Jenson Button was among a horde of top names from British motorsport present at Silverstone today as the circuit unveiled its new 'wing' pit and paddock facilities, the latest part of its major revamp programme.
Afterwards AUTOSPORT heard from Button as he shared his thoughts on developments at the home of the British Grand Prix with the gathered media.
Q. This marks the start of a new chapter for Silverstone. What are your feelings on it?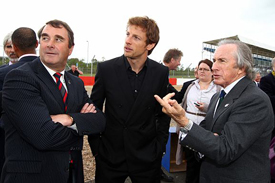 Jenson Button: I am really pleased with what I see. For a new 'Wing' I think they have done a fabulous job. The size of this place - it is enormous. It takes about 15 minutes to walk from one end to the other, or something like that. This is what the circuit needed, and I think to stay as the best circuit in the world it definitely needed a 'Wing' like this. I think it is going to help with the show this year for the British Grand Prix.
For us, as drivers, the most exciting thing is the new Turn 1. Having a flat-out first two corners is going to make for great racing and also this area with the grandstands. Plus, that area ahead of you [going into Turn 1], that is the most amazing place. And the great thing is it is a BRDC area as well, so my mates and family can be cheering me on there from pole position.
I think they have done a great job with the facilities, so it is great to see they have achieved so much in such a short space of time. We should all be proud of the new facility, and it lifts the British GP to hopefully being the best grand prix in the world.
Q. The great and the good turned out today – with five British world champions today at Silverstone. Was that a proud moment?
JB: It was. It is good to see all those guys. I don't see them very often. I think they are all very proud of how hard everyone has worked on this new facility. I think you can really see the history of British motorsport and motorbikes around this circuit. To be stood there with four other world champions from different eras and decades, it is a special feeling. And it is not going to end there – we are going to have multiple British world champions, we just have to look for the talent.
Q. Where do you think Silverstone ranks now in terms of the great circuits of the world?
JB: As a circuit, it has always been, for me, one of the best circuits I have ever driven. It is very fast, it is very flowing – and I put it up there with Spa and Suzuka, which are circuits that have been around for a long time. It seems it is difficult to beat those circuits with the new ones, so maybe it is the regulations or the safety requirements, I don't know.
This circuit has always been stand-out in terms of one of the best circuits in the world for racing and really, especially with an F1 car, pushing it to the limit around here there is nothing like it. Through Becketts, the change of direction is phenomenal. Braking into Stowe, while you are turning in, that is something that you don't get on many circuits.
The facilities have been good in the past, but with all the new circuits arriving like Abu Dhabi and other places, that have great facilities, you could say that maybe it was a little bit tired and it was time for improvements. And they have definitely come on since I started in F1.
This facility is outstanding – and this takes it up to being the best circuit in the world in terms of race circuit and facilities. I think the whole of the United Kingdom, especially as a fan of motor racing, you should be very proud of this place. And hopefully we are going to have a full house this year. The atmosphere is always electric, and having the concert afterwards always helps.
There is a great feel about this place. The Italians have got Monza, and they are very passionate about their motorsport. But we are the same here – if not more. So it is great that we can keep improving this place.
Q. When you look at the new layout and the first flat-out two corners, how much will you be looking forward to that on the first lap?
JB: Turn 3 is going to be interesting, yes. I think it is the first time we will have been down there with 24 cars nose to tail – so it is something we will have to get our heads around. It is very, very tight – and I think you will see some good overtaking moves. I think you will get a queue of cars up the inside, and it will be who is brave enough to go around the outside to make up a few places. It is a nice change.
Here normally you go through Turn 1 [Copse] and the cars separate all through Becketts, as it is very difficult to follow, so down Hangar Straight, there is minimal overtaking. But now, having such a sharp Turn 3 from full speed corners where we shouldn't have to lift even if we are in the traffic, is good. You will see a lot of action – and F1 this year has been full of action and long may it continue.
Q. With DRS what will the British GP be like this year?
JB: Last year, already, we saw more overtaking than normal. But it has been tricky, with the aerodynamics of the cars in such high-speed corners. However, even without DRS we will see great racing this year. It has helped with overtaking on a few circuits, but even without that you will see some great overtaking moves because of the way that the tyres work. The circuit development here has helped with overtaking: so with the tyres and DRS it is going to be mayhem in a good way.
There will be a lot of action and hopefully we will put on a good show.
Q. What about your hopes for Silverstone?
JB: It is one thing that every driver wants on his CV, to win his home grand prix. It is something that I haven't been able to achieve. And I have won the other two big ones, which is Monaco and the world championship. But your home grand prix is something that you really, really want – and you need as a racing driver. That is something I am fighting for this year. A podium will be a good step in the right direction and obviously the top step will be the main aim.