Kenseth beats the odds with victory
| | |
| --- | --- |
| By Diego Mejia | Sunday, May 15th 2011, 20:49 GMT |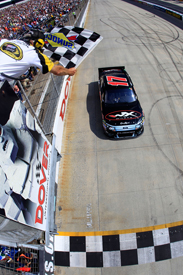 Matt Kenseth claimed his second NASCAR Sprint Cup Series win of the season as a strategy gamble paid off for him in the deciding stages of Sunday's race at Dover's 'Monster Mile'.
A two-tyre final stop was the key to placing Kenseth in contention for victory as those previously ahead of him chose to change four tyres when most of the field pitted under the final caution of the race, with less than 40 laps remaining out of the scheduled 400.
The Roush Fenway racer restarted from the front row when the green flag waved for what turned out to be the final sprint of the race. He quickly disposed of Hendrick Motorsports' Mark Martin, who stayed out as everyone pitted, and pulled out a lead which he held to the chequered flag, as those on fresher rubber struggled to make enough progress.
Richard Childress Racing's Clint Bowyer, Roush Fenway's Carl Edwards and Hendrick's Jimmie Johnson were up front before the final caution but four-tyre stops did not pay off for them as too many followed Kenseth's two-tyre gamble.
"Honestly I was sitting on the track and thinking that we should stay out and get clean air and try it because I knew we wouldn't win if we took four [tyres]," said Kenseth. "Jimmy [Fennig, crew chief] wanted four but as I was driving down pit road I thought maybe we could compromise.
"While I was on the jack I asked if he was sure we didn't want to try two and he said to put on two. It was really Jimmy's call and just a suggestion by me. It was tough to pass on top of that rubber out there. We had a lot of power and these guys did a good job with the car."
Before the decisive final caution Kenseth had been making steady progress while showing enough speed to be a contender for victory, but only through the two-tyre call was he able to crucially gain track position and run in clean air as the track turned slicker as the race went on, making it harder to run side-by-side.
Martin held on to second despite being on older tyres than the rest of the field in the end, holding off a charging Marcos Ambrose - who was a contender for the lead throughout the afternoon. His Richard Petty Motorsports team-mate AJ Allmendinger was also a solid top-five runner before an engine failure put him out of the race.
Joe Gibbs Racing' Kyle Busch, who started the race from the rear of the field following an engine change due to a failure in practice, was the driver making the most progress of those changing four tyres after the final restart, crossing the finish line fourth ahead of the similar Toyota of Red Bull's Brian Vickers, another who took two tyres on the final stop.
Bowyer was sixth in the end ahead of Edwards, who was Johnson's main opponent for most of the race as the Hendrick driver led more than half the distance, while the Roush driver spent 117 laps at the front.
Michael Waltrip's Martin Truex Jr finished eighth ahead of Johnson. The champion knew his strategy had gone the wrong way when he drove out of pit road behind another 10 cars, having run third before the final caution.
"I guess in our minds we didn't think that would take place, so many guys taking two [tyres]," said Johnson, who led 207 laps after starting from pole. "It was certainly the call. I knew basically from the numbers we were in trouble when we left pit road and there were so many guys in front of us. It is just the way it is.
"There at the end, I really think that it was just dirty air and track position was the issue why the four-tyre guys couldn't get through. You are just going so fast around here, even though it is just a one-mile track, that clean air, just cleaner air towards the front makes a huge difference."
Tony Stewart endured a tough day, running unusually far off the pace with handling issues all race long to finish 29th and six laps down on the winner. Last weekend's winner Regan Smith was having a solid race but suffered with a broken track bar, which caused a lengthy visit to the garage. Red Bull's Kasey Kahne ran strongly but an engine failure put him out of the race.
Results - 400 laps:

Pos  Driver              Team/Car                         Time/Gap
 1.  Matt Kenseth        Roush Fenway Ford            3h11m07.000s
 2.  Mark Martin         Hendrick Chevrolet               + 2.122s
 3.  Marcos Ambrose      Petty Ford                       + 2.344s
 4.  Kyle Busch          Gibbs Toyota                     + 3.948s
 5.  Brian Vickers       Red Bull Toyota                  + 4.689s
 6.  Clint Bowyer        Childress Chevrolet              + 5.771s
 7.  Carl Edwards        Roush Fenway Ford                + 5.796s
 8.  Martin Truex Jr     Waltrip Toyota                   + 6.585s
 9.  Jimmie Johnson      Hendrick Chevrolet               + 7.763s
10.  Kevin Harvick       Childress Chevrolet              + 8.489s
11.  Jeff Burton         Childress Chevrolet              + 9.028s
12.  Dale Earnhardt Jr   Hendrick Chevrolet              + 11.353s
13.  Brad Keselowski     Penske Dodge                    + 11.732s
14.  Kurt Busch          Penske Dodge                    + 12.257s
15.  David Reutimann     Waltrip Toyota                  + 12.362s
16.  Denny Hamlin        Gibbs Toyota                    + 12.526s
17.  Jeff Gordon         Hendrick Chevrolet              + 13.359s
18.  Bobby Labonte       JTG Daugherty Toyota            + 16.688s
19.  Greg Biffle         Roush Fenway Ford                 + 1 lap
20.  Jamie McMurray      Earnhardt Ganassi Chevrolet      + 2 laps
21.  Ryan Newman         Stewart Haas Chevrolet           + 2 laps
22.  David Gilliland     Front Row Ford                   + 2 laps
23.  Casey Mears         Germain Toyota                   + 3 laps
24.  Paul Menard         Childress Chevrolet              + 4 laps
25.  Mike Bliss          FAS Lane Ford                    + 4 laps
26.  Dave Blaney         Baldwin Chevrolet                + 4 laps
27.  Joey Logano         Gibbs Toyota                     + 5 laps
28.  David Ragan         Roush Fenway Ford                + 5 laps
29.  Tony Stewart        Stewart Haas Chevrolet           + 6 laps
30.  Landon Cassill      Phoenix Chevrolet                + 6 laps
31.  Travis Kvapil       Front Row Ford                   + 6 laps
32.  Juan Pablo Montoya  Earnhardt Ganassi Chevrolet      + 7 laps
33.  Andy Lally          TRG Chevrolet                   + 11 laps
34.  Regan Smith         Furniture Row Chevrolet         + 39 laps

Retirements:

     Tony Raines         Front Row Ford                   341 laps
     Kasey Kahne         Red Bull Toyota                  331 laps
     AJ Allmendinger     Petty Ford                       166 laps
     Scott Wimmer        Gordon Dodge                      77 laps
     Joe Nemechek        NEMCO Toyota                      55 laps
     JJ Yeley            Whitney Chevrolet                 51 laps
     Mike Skinner        Germain Toyota                    51 laps
     David Stremme       Inception Chevrolet               47 laps
     Michael McDowell    HP Toyota                         45 laps