Neuville claims maiden IRC victory
| | |
| --- | --- |
| By Matt Beer | Saturday, May 14th 2011, 18:55 GMT |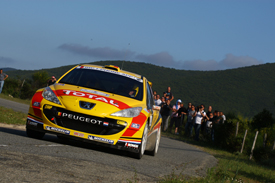 Thierry Neuville clinched the biggest win of his career so far by cruising to victory in the Tour de Corse - in the process becoming the Intercontinental Rally Challenge's youngest winner at the age of 22.
The Belgian controlled the event from the outset. Even when his lead was eroded after a quick spin on Friday and then when he struggled with the car's handling briefly this morning, Neuville was able to respond and pull away again. His final winning margin over Skoda's title hope Jan Kopecky was 15.5 seconds.
"I'm so happy. It was a long, long day and I think we did a good job," said Neuville, who was also a winner in the World Rally Championship's Junior class last season. "I'm happy to have finished. Now we can continue like this. It's so good. I couldn't imagine that we would win here, but it's perfect. This is the start..."
Although Kopecky could not catch Neuville, he was able to pull away from fellow Skoda driver Freddy Loix to secure a comfortable second.
Three other drivers had fought for the podium only to hit trouble. Neuville's Kronos Peugeot team-mate Guy Wilks was closing in on the lead when he crashed out on Friday morning, while Monte Carlo winner Bryan Bouffier (PH Peugeot) was the only man to briefly head Neuville, but then fell back with a puncture. He was still set to finish fourth before going off the road on the very last stage.
Andreas Mikkelsen (Skoda UK) was battling with Loix until a puncture this afternoon consigned him to an eventual sixth.
Fourth place went to Pierre Campana, as the local man made an extremely successful IRC S2000 debut - holding his position despite having to stop and change a punctured tyre on the last stage of the event.
Peugeot Portugal's Bruno Magalhaes ultimately climbed to fifth, just 1.9s ahead of Mikkelsen, after a quiet rally hampered by brake problems at first. Ford privateer Julien Maurin fell behind Magalhaes and Mikkelsen late on and finished seventh, while Toni Gardemeister (TGS Worldwide Skoda) had a very disappointing weekend and was only eighth, slowed further by clutch issues this evening.
Patrick Sandell's IRC debut did not deliver what he had hoped for either as he came home ninth for Skoda Sweden.
Leading finishers:

Pos  Driver                Team/Car                  Time/Gap
 1.  Thierry Neuville      Peugeot Belux (Kronos)  3h20m51.0s
 2.  Jan Kopecky           Skoda                      + 15.5s
 3.  Freddy Loix           BFO Skoda                + 1m02.6s
 4.  Pierre Campana        Munaretto Peugeot        + 3m59.1s
 5.  Bruno Magalhaes       Peugeot Portugal         + 4m28.2s
 6.  Andreas Mikkelsen     Skoda UK                 + 4m30.1s
 7.  Julien Maurin         Ford (private)           + 4m33.3s
 8.  Toni Gardemeister     TGS Skoda                + 6m33.3s
 9.  Patrick Sandell       Skoda Sweden             + 8m28.8s
10.  Jean-Mathieu Leandri  Peugeot (private)        + 9m41.5s