McLaren sure it will close gap in Spain
| | |
| --- | --- |
| By Dieter Rencken and Matt Beer | Sunday, May 8th 2011, 09:14 GMT |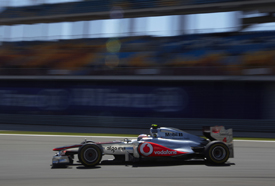 McLaren boss Martin Whitmarsh is adamant that his team will be closer to Red Bull in Spain in a fortnight when it introduces upgrades it could not run in Turkey, and is still optimistic that Lewis Hamilton and Jenson Button can fight for Istanbul victory today.
After winning in China with Hamilton, McLaren was usurped as Red Bull's closest challenger by Nico Rosberg and Mercedes in Turkey. Hamilton and Button will start fourth and sixth respectively in today's race.
McLaren is running the same spec car as at Shanghai, as a problem with a development part on the test rig this week and then the loss of dry running to Friday morning's rain persuaded the team to postpone its upgrades.
"We were coming here with the intention of bringing some performance. Various things conspired against us - we had a rig failure in a test on Thursday back in the UK, we had a wet first session which took out quite a lot of our opportunity to develop the car," Whitmarsh explained.
"So we know we didn't deliver everything we intended to deliver, and you can always look back and say 'if we'd had that, we would've been in this position'.
"We're clearly a team that likes to win, we'd like to be on the front row and in a dominant position. We're not, but we're realists and we're competitors, and we know we're going to make the car quicker at the next grand prix.
"We can still win this race if we get it right and others get it wrong. We acknowledge that Red Bull is very strong at the moment and we haven't made the step forward that we wanted to this weekend, but that only makes us more determined to do it in two weeks' time."
Having more fresh tyres for race day in China proved crucial for Hamilton, but in Turkey McLaren made two shots at pole in Q3 whereas Red Bull conserved tyres and only ran once in the final session.
Whitmarsh admitted that McLaren was therefore not in as strong a position for today's race, and that in retrospect it might have been better to follow Red Bull's example.
"I think it's very clear that it's very, very tight in qualifying, and we took a very conscious decision - we weren't oblivious to the consequences of the decision," he said.
"In life you can always look back on decisions, certainly in racing, very quickly with hindsight and say 'that was a bad one or a good one'. I hope it's not going to be significant.
"We went out to do the best job we can, it didn't quite work out for us, it was very, very close and we could've been on the first row. We've got two great drivers on the second and third row and we can certainly race from there."
Hamilton said that while Sebastian Vettel and Red Bull's pace advantage was sobering, he was encouraged that not running the updates in Turkey had not harmed McLaren too much.
"[Red Bull] are just too quick and it's clearly very easy for him to do the lap," said Hamilton. "We are pushing as hard as we can to close the gap, which is not impossible.
"Even though we haven't taken a step forward this weekend, the gap still looks fairly similar to how it was in the last race in terms of qualifying pace, it's just that the others have closed up. But we have some good things coming for the future."
The Briton is confident that he can at least attack Nico Rosberg for third in the race, provided he does not lose ground off the line.
"I think the biggest worry is just that we're on the dirty side of the grid and there's quite a big difference from the dirty to the clean side here, so I think the most important thing for us is to try not to lose ground to either Fernando [Alonso] or [Vitaly] Petrov," Hamilton said.
"If we can hang on to our position then we can definitely challenge Rosberg - I think our long-run pace might be slightly better than theirs so fingers crossed that will work in our favour."