McLaren drivers 'still in the fight'
| | |
| --- | --- |
| By Matt Beer | Saturday, May 7th 2011, 13:25 GMT |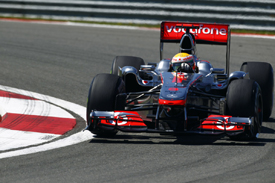 The McLaren drivers feel they can still be a factor in the fight for Turkish Grand Prix victory from fourth and sixth on the grid, though Lewis Hamilton admitted he was concerned Red Bull could get away if he gets caught up in battle with the improved Mercedes.
Nico Rosberg will start third on the grid in the best Mercedes, with the Red Bulls sharing the front row, and Fernando Alonso's Ferrari splitting the McLarens.
"Mercedes GP and Ferrari have picked up their pace, and it might be hard to overtake the Mercedes GP because they're very fast on the straights; so if it pans out like that, the Red Bulls could edge away from us," said Hamilton.
"We don't have an extra set of [unused] tyres, but you never know what the weather will do tomorrow. We're definitely in the fight and I'll be pushing all the way - just as we did last year.
"So I'll try to get a good start tomorrow – fingers crossed we can gain some places that way. I'm looking forward to driving a strong grand prix – it's a long race here and there should be opportunities to overtake."
Button pointed out that grid position has had little to do with results in many cases this year, though he felt in retrospect he might have been better off being conservative in Q3 and saving more tyres for the race.
"Sixth position isn't great, but we can still do well: Mark Webber had a good race from 18th in China, so we can definitely have a good race from sixth," said Button.
"Maybe I should have just done a single run for Q3 because my second run wasn't any faster than my first – and you tend to lose time if you push these tyres too hard. But to be honest I couldn't get a really good balance in qualifying."
Team boss Martin Whitmarsh suggested McLaren had the potential to get among the Red Bulls in qualifying had the drivers got the maximum out of the car.
"It's very tight, very competitive, at the sharp end of the grid this year – and it's worth noting that, had Lewis managed to string together his three best sector times in a single lap, he'd have been second-quickest As things turned out, he was fourth-quickest, and Jenson was sixth-quickest, but they're both fantastic racers and they'll approach tomorrow's race with all the controlled aggression that we've come to expect from them over the years," Whitmarsh said.