Pirelli wants tyre allocation change
| | |
| --- | --- |
| By Jonathan Noble and Dieter Rencken | Friday, May 6th 2011, 12:31 GMT |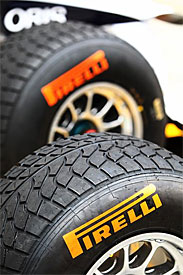 Pirelli wants to open discussions with teams about changing the wet weather tyre allocation limits on Formula 1 weekends to prevent drivers running out of sets.
Under the current F1 rules, drivers are limited to four sets of intermediate tyres and three sets of wet tyres for the whole event.
Should practice and qualifying deliver conditions that meant drivers got through a few sets of tyres, it could leave them short of available new rubber for the main event on Sunday.
Pirelli director of motorsport Paul Hembery expressed some concern about the situation after wet running in Turkey - and said that he would like to discuss possible solutions with the teams.
"On the balance everything is good, but I think there is a serious discussion to be had about a contingency for what would happen if we had three days of running and how we would then have a race," Hembery told AUTOSPORT.
"We cannot sit back and say the regulations limit us to a certain number of sets. If we had three days of rain, then teams would not be able to run in some sessions, so there is a big question mark there.
"I have never come across three [consecutive] days of rain, but it is a reality and it might happen some time. So I think as a sport we need to think of a backup for that.
"We are going to have a few thoughts about that, go to the teams and then maybe come up with some ideas about what we should do as a sport."