Vettel: Red Bull must learn from China
| | |
| --- | --- |
| By Jonathan Noble and Pablo Elizalde | Thursday, May 5th 2011, 15:23 GMT |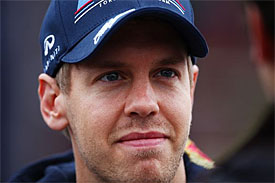 World champion Sebastian Vettel says Red Bull must learn from the mistakes of the Chinese Grand Prix, the German claiming McLaren's victory in Shanghai had nothing to do with luck.
"I don't think it's luck. McLaren didn't win because they were lucky," Vettel told reporters in Istanbul.
"They did a good job and obviously gave us a hard time in the race and they fully deserved to win because, as I said, they did a better job than we did.
"I don't think our decisions were down to luck and neither were theirs. You have these races and it's important to learn from those things and make sure you don't do the same mistake twice," he added.
Vettel, the winner of the first two races of the year, lost out to McLaren's Lewis Hamilton in China after the Brion charged to the front thanks to a three-stop strategy.
Vettel opted for two stops and was unable to push as hard as Hamilton in the latter part of the race.
Despite his run of victories coming to an end, Vettel said China was not a wake-up call for Red Bull, as he never believed his team would dominate the championship.
"I wouldn't say wake-up call. Maybe for people already asking weird questions in race two of the season about being dominant. But I always try to explain my point of view. Maybe it's a lesson for the people asking these questions and saying that this is total dominance, etcetera.
"Maybe it's a lesson for them to see that obviously we didn't have a perfect Sunday. You make a small mistake or something goes wrong and someone will beat you.
"Nobody is unbeatable and there will always be a time when you will find somebody kicking your ass. I don't like being beaten but no one is unbeatable."
The world champion also downplayed the chances of teams saving tyres in qualifying in order to have more sets for the race, despite his team-mate Mark Webber charging from 18th to third in China, benefiting from having more sets of soft tyres after being knocked out in Q1.
"I always think if you have a choice you should go for pole position. I still think starting from the front is what you want. Obviously if you start from behind there is always a lot of risk involved and everything needs to go the right away.
"If you stop moving forward and get blocked behind a car your strategy doesn't work anymore. I don't think that's the way. If your target is to have fun you should start from the back, but if your target is to win you will start like to start from the front."