News Corp confirms interest in buying F1
| | |
| --- | --- |
| By Jonathan Noble | Tuesday, May 3rd 2011, 18:17 GMT |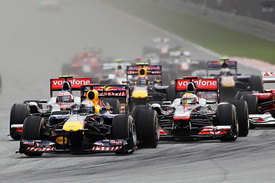 Media group News Corporation has officially confirmed it plans to look into a joint takeover of Formula 1 with an Italian investment company that has close links to Fiat.
After weeks of speculation about News Corporation's possible plans for F1, a statement issued by Italian investment group EXOR on Tuesday night revealed that early negotiations were underway.
EXOR stated that it planned to approach other stakeholders in the sport to consider how viable a takeover bid was, prior to making any approach to F1's current owners - CVC Capital Partners - or its commercial boss Bernie Ecclestone.
The statement said: "EXOR, one of Europe's largest listed investment companies, and News Corporation, the global media group, confirm that they are in the early stages of exploring the possibility of creating a consortium with a view to formulating a long-term plan for the development of Formula 1 in the interests of the participants and the fans.
"Over the coming weeks and months, EXOR and News Corporation will approach potential minority partners and key stakeholders in the sport. There can be no certainty that this will lead to an approach to Formula 1's current owners."
EXOR's involvement is intriguing because the company is headed by John Elkann, chairman and chief executive of Ferrari's parent company Fiat.
Furthermore, EXOR is controlled by the Agnelli family - which has long had close ties to Ferrari. The company owns a 30 per cent stake in the Fiat company as well as a 60 per cent interest in Juventus Football Club.
The official statement by EXOR and News Corporation comes just days after Ecclestone said that the chances of a takeover by Rupert Murdoch's business interests was 'close to zero.'
"It's media driven," he told Reuters. "It looks very much like someone who is trying to see if they can make (money). All of these people that get involved with these things, they get some victims and say 'We can make this happen, I'm sure we can do this' and then all they do is keep pumping fees in."
When asked about the possibility of F1 moving onto a pay-TV platform, Ecclestone said: "If, and I think the chances are close to zero, but if Murdoch was to buy certainly he'd have to broadcast some free to air like it is now."