McLaren seeks exhaust flow answers
| | |
| --- | --- |
| By Jonathan Noble | Tuesday, May 3rd 2011, 14:07 GMT |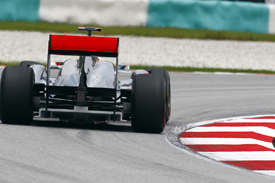 Red Bull Racing's qualifying advantage could be helped by 'elaborate' engine mapping that helps make its blown diffuser more effective over a single lap.
That is the view of McLaren principal race engineer Phil Prew, who says his team is working hard on getting a grips as to why rivals Red Bull Racing have more of an advantage in qualifying than they do in a race.
"We are aiming to improve the performance of our car right the way through the range, in qualifying and in the race," said Prew, during a Vodafone McLaren Mercedes phone-in, about where he believes Red Bull's advantage lies.
"I think tyre optimisation may be one area, and the use of elaborate engine modes may be another - with the generation of downforce being quite highly influenced with the exhaust flows.
"There are many reasons why it may exist and we are aiming to improve our performance in qualifying and the race, and hopefully close in both areas."
F1 teams last year began experimenting with engine modes that pump more exhaust gases out - to help increase the airflow through a blown diffuser. This also included having gases flowing through the exhausts when drivers were off-throttle.
Red Bull Racing could be using a more extreme version of such engine mapping to dramatically increase exhaust flow in qualifying - but this would likely put a strain on its Renault power unit which could threaten reliability in the races.
Prew believes that McLaren is only a few tenths of a second behind Red Bull Racing in terms of out-and-out pace.
"I think that we are between three tenths and half a second off the pace of Red Bull, and obviously that is the gap that we are aiming to close," he said.