Renault recapturing driver chemistry
| | |
| --- | --- |
| By Jonathan Noble | Monday, April 25th 2011, 09:57 GMT |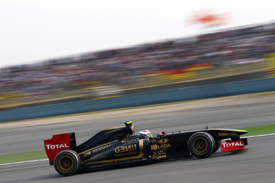 Renault boss Eric Boullier believes his team is now close to rediscovering the team/driver chemistry that is needed to challenge for victories in Formula 1 - following the nightmare loss of Robert Kubica on the eve of the campaign.
The Enstone-based outfit was rocked in February when lead driver Kubica was seriously injured in a rally crash, which left him in hospital for 10 weeks and will likely keep him out of action for the rest of the year.
But despite the positives of podium finishes for Vitaly Petrov and Nick Heidfeld in the first two races of the campaign, Boullier thinks the most important progress that has taken place this year has been in getting his team and drivers to believe in each other in the wake of Kubica's absence.
Having faced inevitable questions about what he believed Renault could have achieved this year if Kubica had been on board, Boullier told AUTOSPORT: "With the word 'if' I would be world champion... so I don't want to think about it.
"I think we need to not underestimate the progress of Vitaly. My job is to make sure my drivers feel confident and that they improve over the year - so you have this spike of performance.
"Mentally, it is very important for them to feel they can do better and that the team is here to support and give them the tools to do even better.
"So as a team we have to be careful about the environment – and to make sure that we can put the drivers in a situation where they can deliver more and more. Robert was clearly in this positive loop, and this is something we have also created with Vitaly.
"However, starting with a rookie you need some time to do it and for him to deliver. I think he is now starting to deliver, although he is still also making some mistakes.
"In the case of Nick, he was in a different place, so we have to put him back in this positive loop. And that will not come in a few days. With experience he can go faster than Vitaly, but we need time to go and catch the final tenths.
"It is all about a team effort – it is the noble way. The team is pushing, the driver is pushing, and everybody is pushing each other. You need to keep this balance, but it's a fragile balance."
Boullier thinks that flashes of strong form from both drivers this year, including solid laps in qualifying and the podium finishes, are vital for helping increase that self-confidence.
"It is about belief as well," he said. "Vitaly did this in Q3 in Melbourne, and it was good for his confidence building because for once he was alone – he was representing the team and he delivered.
"For both drivers it is important to do this because then they know they can do it. We can then put the target higher and step-by-step you reach that higher class."
Boullier also said the team had been boosted by the fact that Kubica has been kept in the loop about developments – and had been pushing it on.
"We have some nice messages from him each time," explained Boullier. "He keeps texting me and sending me nice messages for the team, which is clearly encouraging them."