Pirelli promises not to get complacent
| | |
| --- | --- |
| By Jonathan Noble and Dieter Rencken | Monday, April 25th 2011, 09:00 GMT |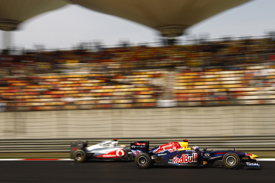 Pirelli insists it cannot sit back and think that it has done enough with its tyres to guarantee exciting races in 2011, despite the first three events of the year having been deemed a success.
The Australian, Malaysian and Chinese races all produced mixed-up grands prix thanks to the nature of the 2011 tyres - and that bodes well for a spectacular remainder of the campaign.
But despite the sport's bosses, drivers and fans all welcoming the way the racing has been made more thrilling so far, Pirelli reckons the lessons of the first events are that there is no guarantee things will continue in the same way.
"It is going to vary race to race, and circuit to circuit, depending on what tyre of surface it is," Pirelli's director of motorsport Paul Hembery told AUTOSPORT.
"The next race in Istanbul is very tough on tyres - and is probably the worst for us as a tyre maker. So that will change again the type of strategy needed in a race.
"But we have had a lot of credit from a lot of people about the nature of the races so far – and if we continue like that we will have a great season."
Hembery believes that the next few events could well be very different from what has been experienced so far – with the punishing Turkish and Spanish venues followed by the tricky Monaco and Montreal ones.
"I think Turkey will be similar to Sepang in terms of tyre wear – and if not even worse because of the very, very abrasive surface. After Spain, we have Canada and Monte Carlo, which will be with our super soft and soft tyres."
One area that Hembery believes Pirelli needs to improve is in extending the life of the harder compound tyres. The evidence from the two most recent events is that teams are automatically using the softer tyre in races because its durability is not much less than the hard – meaning that over a stint it is much quicker.
"We are looking at maybe doing work with harder compound so it can do a few more laps," he said. "What we realised in these last few races is we are missing three or four laps of durability, particularly with the harder compound on abrasive surfaces. What we don't want is the teams to adopt the same strategy."
Pirelli is due to evaluate a new experimental hard compound in Turkey, with a view to introducing it at either the Spanish or British races.