Q & A: Michael on Williams's situation
| | |
| --- | --- |
| By Jonathan Noble | Monday, April 18th 2011, 09:06 GMT |
After enduring its worst start to a Formula 1 season ever, the Williams team is ready to make radical changes to its structure.
Technical director Sam Michael admits even his own role will be under review as the team tries to bounce back from its poor start.
AUTOSPORT talked exclusively to Michael about the situation at Williams.
Q. The Williams was competitive in pre-season testing and showed good pace in Australia, but in the last two races things look like they have slipped away. Do you have an understanding of what has happened?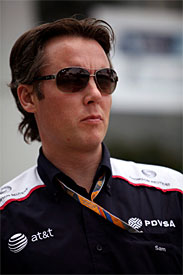 Sam Michael: It is very close in terms of the gaps to the front. If you look at our cars today, their fastest race laps were faster than [Fernando] Alonso. But then [Mark] Webber is two and a half seconds up the road, with a different strategy and he had new rubber all through the race. So, it will not take very much to put ourselves in the points, that is for sure. I am hopeful that we can do that in Istanbul. For Turkey we will have a new front wing, rear wing, brake ducts and three or four other things as well, so we have quite a good step forward there if it all works properly.
Things can change very quickly in this sport. You would never have thought at the last Barcelona test that McLaren were going to win a grand prix in the next month, and they have done. It is because there has been a big change of rules, and there are a lot of different designs out there in terms of exhaust systems and rear wings. As they gravitate towards each other over the next couple of races, it will make a difference. So I am pretty hopeful.
The thing I am really glad about here is getting both cars to the finish. That allows us something to build on, and really get a more solid race car and qualifying car.
Q. A lot of teams are struggling to find consistency, with their cars being in and out of competitive windows - like Mercedes GP which has been very up-and-down. Is that a factor in your start to the season?
SM: Yeah. That is what I mean when I say it will not take very much to unlock the car. Mercedes is the same, and that is what McLaren did between the last test and the first race. I think that is managing the tyres, and understanding how to work the tyres properly. A lot of it still comes down to aero and getting downforce on the car.
Q. Have you been in worse situations than this before?
SM: In terms of actual results, it is pretty bad to not score points three races in a row. But the big difference from when we struggled before was that we didn't have anything coming. Whereas now, we have a lot of stuff that we are putting on for Istanbul, Barcelona and Monaco. Before, we have been sitting there thinking, 'what are we going to do next?' I think in this instance the design office and the aero department have a lot of things that they have made already but just physically are not on the car. So I do feel more optimistic about Williams getting back up there.
Q. As technical director you are reliant on the aero department throwing stuff at you and producing the improvements. Do you think there is a need there for a bit of a restructuring of staff to make the situation better?
SM: Yes. But I wouldn't say it is exclusively down to the aero department. As you have said, as TD the technical performance of the car comes under my responsibility. I think the job that we have done this year clearly is not good enough.
There are lots of different reasons why. But either way, whatever team you are, I can easily see that where we are at the moment is not good enough and that falls down to me. So, we are currently reviewing that inside Williams - I am contributing to that and I am happy to do what the team wants me to do to an extent.
What I would not be happy with doing would be not changing anything – even myself. Even if everyone said everything is perfect, I know it is not. So, I am not happy with the job that we have done as a group. I would review that anyway – including myself. I don't exclude myself from any of that.
I, as technical director, have chosen the technical team that works for me – the aero team, the design team, the operations group, the vehicle dynamics, the KERS guys. They are all people that I have chosen to put in those positions, so if it doesn't work then it is my responsibility. That is what we are in the middle of at the moment.
Q. So you are saying that there could be changes in the structuring...
SM: Not could be, there will be. We are definitely changing the team – and that includes myself as well.
Q. In terms of a new role for you, or different responsibilities?
SM: I don't know yet. We haven't really finalised that, and it will come down to what the team wants really. And myself as well – and what I think is best for the team. Obviously the team has to decide what it wants for itself and I will be part of that process, and then also I have to make a decision whether I think that is good for the team in terms of whatever I do.
Q. But you are fully committed to this team, aren't you?
SM: We all have contracts and I have a contract until the end of this season anyway. So regardless of what happened – whether any restructuring meant that I left Williams or not, I would not leave Williams before the end of the year because I will stick to my contract.
But in terms of going through that process, I am pretty open-minded at the moment. But open-minded to the extent that we have to make some big changes, because what we have got at the moment going on is not working and it needs change.
Q. With the Turkey upgrade coming, do you feel that the basic package of the new Williams is actually good?
SM: I do. That is the other thing when you talk about restructuring – you cannot do things like that overnight. Whether you move people internally, which is a bit easier, or bring people in from outside, it can take you 12 months to get people in. That is what I mean when I say I am committed to Williams – even if we end up in a position where I leave Williams, I would be fully committed until they could operate. Short term you have to use your people, and that is what contracts are for as well.
In terms of this car, I am fully committed to getting it up the grid as far as I can. And I think as a base concept, things like the gearbox and even the aerodynamic package we are working around, I think it is a good solid base. If we can get all the upgrades on it and working, then I think we can be pretty competitive with it.
Q. With these new rules making strategy so important, and big teams spending a fortune just on that area, does it makes it harder for outfits like Williams to improve because you have to put resources into improving your car as well?
SM: It is. There is a lot of stuff to do. That is F1. It is a very complicated business and it is a matter of juggling all those balls. Even the small teams to the big teams, they all have the same problems as everyone is overloaded, but that is normal for F1. It has always been like that.
Q. If the Turkey upgrade works well, where do you think this team can get to by the end of the season?
SM: I think, to be honest, I don't see any reason why we cannot fight to be the fourth or fifth fastest team. I think Red Bull Racing and McLaren, no way – and also probably the third best team behind them whoever that turns out to be in the end. One race it was Ferrari, the next Mercedes and another race Renault. Our target this year was to improve on last year, where we finished sixth, so our target this year is to finish fifth regardless of what we do for the future.