Horner: Two-stop was right strategy
| | |
| --- | --- |
| By Simon Strang | Sunday, April 17th 2011, 09:59 GMT |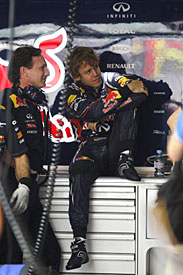 Red Bull team principal Christian Horner admitted that his team opted for a two-stop strategy in an attempt to outfox McLaren's Lewis Hamilton and Jenson Button, and that had Sebastian Vettel matched their three-stop plan he would not have been able to bring himself into play.
The world champion made a poor start from pole position and ran third initially, which is when Red Bull decided to run Vettel on two-stops, and though this put the German in the lead for most of the race his worn tyres left him vulnerable to a successful attack from race-winner Hamilton in the closing stages.
"If we had made just three stops behind them, we probably would have stayed behind both of them," Horner told the BBC. "So we decided to do something different to try and beat both of them and we thought we could make it work - we came within four to five laps of doing so – and P2 is still a great result.
"Lewis with the shape that his tyres were in was so much quicker that it wasn't worth fighting so hard. Points are still important and it's a long championship. He made him work for it for a couple of laps, but it was inevitable with the difference in grip.
"Second and third is still a fantastic result so we made our commitment at the first to go two-stops, we thought we could make it work and we came up four laps shy on making that work for us today. It was a fascinating race that so nearly paid off by Sebastian. We made the decision based on him being P3 at the time behind the McLarens – we felt that was the best way to beat them and very, very nearly did it."
Horner also paid tribute to Mark Webber, who produced a storming drive from 18th on the grid to finish third after a battle with Jenson Button in the closing stages.
"What a recovery from Mark," said Horner. "With Mark we ran the race in reverse and started him on the prime tyres and once he got on to the softer tyres he just got faster and faster on an aggressive three-stop strategy.
"He for sure was driver of the day, he made some great moves with Michael [Schumacher] and Fernando [Alonso] and so on and then to get the podium there at the end... he came close last weekend and he really deserved that result today."
KERS proved a problem for both Red Bull drivers again in the race and Horner admitted that the team must improve the system before Turkey.
"KERS worked pretty well for the first half of the grand prix and then we became more intermittent with its usage in the latter half of the race," he said. "We still need to improve on it and we have got three weeks between now and Istanbul to make sure that we have got it available on every lap of the grand prix."