Sauber open-minded over pit strategy
| | |
| --- | --- |
| By Jonathan Noble | Sunday, April 17th 2011, 05:20 GMT |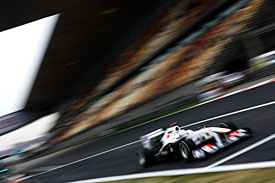 Sauber says it will not automatically go for a one-stop strategy in the Chinese Grand Prix - even though its team has opted for the least number of tyre changes in both races held so far this year.
The team's C31 is easier on its tyres than rival cars – and that has helped Sergio Perez and Kamui Kobayashi finish in the points in both races by running different strategies compared to other teams.
But although a one-stop is a possibility in Shanghai, with tyre degradation much less than it was in Malaysia last weekend, Sauber insists it is open-minded about what tactics it will choose this time out.
When asked if it could be taken as a given that Sauber would go for a one-stop, technical director James Key told AUTOSPORT: "I don't think it is a no-brainer.
"We have to consider all the options. I think – while the degradation isn't so bad here, the wear is different because there are high speed corners. The pit lane time loss is different, plus the performance between the two tyres and track temps will be different.
"We need to take all things into consideration and see what is best to get us from where we start into the points again. I don't know how it will pan out, it could be a bit of a procession with lots of guys ahead of us, or there could be lots of dicing."
Key says that the Sauber characteristic of being easy on its tyres contributed to the failure of Perez and Kobayashi to get into Q3 in China.
"The issue has primarily been sector one where, what we are finding, is that if you are going for a flying lap on new tyres the tyres are not quite coming in. The first two-three corners are too slow, but on the second lap you have used up that new tyre, so the grip is not quite there.
"It is slightly more difficult to bring them in, and it is what we had in Melbourne. In Melbourne we could qualify over three laps, but this circuit is a bit harsher on tyres so it was trickier.
"Had we had a bit of sun, it would have been fine with the option - but it was quite cold in qualifying. Plus, [Vitaly] Petrov stopped and then we had to queue up – with traffic – which is never going to be good for keeping heat in the tyres."