Button admits Vettel pace was too much
| | |
| --- | --- |
| By Simon Strang and Jonathan Noble | Saturday, April 16th 2011, 08:12 GMT |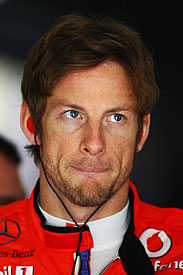 Jenson Button admitted that Sebastian Vettel's blistering pace in qualifying for the Chinese Grand Prix dashed any hopes the McLaren driver might have had of challenging for pole position in Q3.
The 2009 world champion, who starts Sunday's race from second on the grid - his first front row start of the season – revealed after qualifying that he had harboured hopes of challenging for pole after a strong run in Q2. But despite using two sets of the softer option Pirellis, could not get within half a second of Vettel's first effort.
"In the heat of the moment you always hope it is possible," said Button. "But the pace of Sebastian and Red Bull was phenomenal in Q3. In Q2 it looked like it was possible, that is why I tried to run with two sets of tyres in Q3 and give it a try, then I saw Seb's time and realised we were fighting for second place.
"It has been a reasonably good day for us, yesterday I don't think we had the perfect balance, we were not extracting best out of it," he added. "Today we made some good changes, especially overnight, and the car was more consistent and I think we extracted what we could have out of it today.
"We don't know what his [Vettel's] pace is going to be like in the race, if it's one second quicker [than us] then it's not possible to race with him, if it's four tenths quicker and we have KERS it is possible, we have to see where we stand tomorrow.
"If you're talking about start, there is a short period before Turn 1, even if he doesn't run KERS – which I am sure they will – during the race they are very quick anyway, look at Malaysia, a lot of race he didn't use it and his pace was still very good."
Button added that while the performance gap between Red Bull and McLaren appears to remain quite large, the Briton is confident that McLaren can close it down enough to challenge RBR as the season rolls on.
"We are in a better position to challenge the Red Bulls," he said. "This is a team that will never give up, they have fought for so many championships, they have the resources and the manpower to really fight for it. They will do what we can to catch RBR sooner rather than later.
"I have been racing in F1 for 12 years and more often than not there was a guy out front and he was normally wearing red. F1 is a very competitive sport, the last five years there has been a different champion – it is not depressing because you work as a team, you win as a team, lose as a team.
"We need to get more out of car and take the fight to Red Bull. But it is three races in and 17 races to go."