Happy Vettel taking nothing for granted
| | |
| --- | --- |
| By Jonathan Noble and Pablo Elizalde | Saturday, April 16th 2011, 07:58 GMT |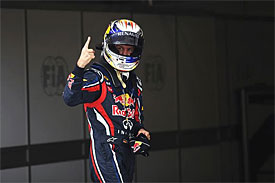 Sebastian Vettel says he is taking nothing for granted for the Chinese Grand Prix despite another dominant pole position on Saturday.
The Red Bull driver secured his third pole position in three races, finishing over seven tenths of a second ahead of McLaren's Jenson Button.
Despite the run of poles and the gap to his rivals, Vettel said it had not been easy, and insisted he is "starting from zero" again tomorrow.
"It is not easy. It all starts again from zero but people tend to forget that. I am very happy with the team at this stage and the way we all remain focused so I think we did a very good job today. We are happy but tomorrow is a new day so I am looking forward to that."
He added: "Obviously we did it again but I try to keep reminding myself and the team every single time it is tough. Today was not as straightforward as I planned. In Q2 I wasn't 100% comfortable but I was confident and in Q3 we improved quite a lot.
"We have to go step by step and it all starts from zero again. Today we did a good job one more time but all it is is eight metres tomorrow. WE are looking to score some points tomorrow. It's a long race."
He also denied Red Bull will have it easy during the rest of the season, and he is expecting his rivals to catch up during the European season.
"As I said earlier, we have to go step by step," he said. "Teams like McLaren, Ferrari and Mercedes they are not as happy as they want to be, they are pushing very hard, so to stay where we are, we have to push harder than them to stay there.
"We are all aware of that, and since 2009, halfway through 2009, we had a very, very competitive car and we are enjoying to run on the front, but we have not forgotten how it feels to run at the back."
The German also explained why he sat in his car for so long after the end of qualifying, adding: "With the new regulations and the fixed weight regulations, the FIA has the chance to check that, and unless I get a thumbs up from an official I can't get out of the car, otherwise if I get out I might get in trouble. Maybe I didn't see them the first way around, so I ended up waiting, then someone said it was good to get out."