Webber not worried about tough start
| | |
| --- | --- |
| By Simon Strang and Jonathan Noble | Thursday, April 14th 2011, 09:08 GMT |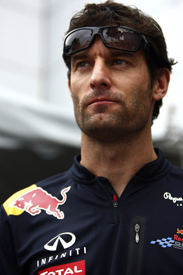 Mark Webber says he is not panicking about his slow start to the season in comparison to his Red Bull team-mate Sebastian Vettel.
World champion Vettel made a clean sweep of Australia and Malaysia, winning both races from pole position. In contrast Webber finished a distant fifth in his home race and had to fight back to fourth in Sepang after his KERS failed to operate from the start of the race. Thanks to those two victories, Vettel already has a 28-point cushion over the 34-year-old.
Speaking in China ahead of this weekend's grand prix though, Webber said that he was pleased with the pace he showed in Malaysia and was bullish that things should return to normal, with him being more closely-matched with Vettel, very soon.
"I have been around long enough to understand that I have had some very good seasons in the last few years, and people always make the natural comparison between your team-mates and all that sort of stuff," he explained during his press briefing, which AUTOSPORT was present at. "Obviously Seb is driving really, really well, and he is on top of a lot of things at the moment.
"But for me the first race wasn't great, and Malaysia was a much, much more positive weekend. Seb was coming to my pace at the end, he did a great job in Q3 as we've often seen from him. He is very strong in qualifying and the race was disappointing that I didn't have a chance to look at the front of the grand prix. So it could be a lot worse than it is at the moment.
"I'm still performing pretty well I believe and also we are learning a lot still about the category. As a driver you have still to adapt to different things and learn how you get more out of things and that's what I've got to do.
"Every track throws up different challenges, so yeah I am fine. I think if I was much younger I would be panicking but I'm not panicking at all, I've been around the block too many times."
Webber reacted angrily to a reporter who compared his situation to that of Eddie Irvine's alongside Michael Schumacher during their Ferrari heyday, when the Ulsterman compared being beaten five times in succession by the German to being hit over the head with a baseball bat.
"Absolutely f****** ludicrous question mate!" Webber said. "You've known me long enough, you've known me long enough. Five wins in a row? Yeah but that doesn't mean... he's not just beaten me. He's beaten everyone. So no one will turn up then! We may as well all stay at home.
"That's what a competitor does [come back fighting]," he added. "Nothing lasts forever. That's the way it goes. Like I said he is doing a good job and Malaysia was close between us. Tough first lap [for me], but that's what happens. Come here, see how we go... I think... I'll stop there."