Brawn: Teams may need to copy RBR
| | |
| --- | --- |
| By Jonathan Noble | Friday, April 8th 2011, 13:05 GMT |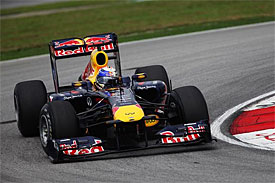 Mercedes GP team principal Ross Brawn believes Red Bull Racing's rivals may need to adopt its high rear ride-height concept if it is found to be a big contributor to its front-wing advantage.
Amid ongoing controversy about the way that Red Bull Racing's front wing runs much lower to the ground than other cars, the reigning world champion has defended its approach by claiming that its situation is helped by it simply choosing to run with more rake than rivals.
Brawn believes that, with the FIA having found no problem with the visible flexing of the RB7's front wing with tougher deflection tests, it was now up to teams to decide if they wished to pursue Red Bull Racing's approach to car design.
"There's a regulation which says that the bodywork should be rigid," explained Brawn at Sepang. "We all know that's impossible because everything moves. It's a question of degrees, so the FIA has a series of tests to measure the degree to which bodywork moves and, as long as you pass those tests, then your car is to all intents and purposes legal.
"Those tests can change, in fact they changed over the winter because, as they do in a lot of areas, the FIA try and improve those tests. There's a new test this year. Red Bull obviously pass it so that's all there is to say about it.
"They've got a philosophy of their car and approach, and teams have got to decide if that's the reason - or one of the reasons - for their level of performance. If it is, then you need to consider going that route yourself, or make sure it's not an excuse for the fact they're winning everything at the moment.
"It's a philosophy. It ties in a lot with the whole car concept. It's fair to say that probably, over the winter, a lot of teams assumed with the new test that the situation was going to change and it hasn't, so we're faced with what we have and we have to make sure we produce as competitive a car as we can and comply to the FIA tests."
Renault team principal Eric Boullier added that his team would keep a close eye on the Red Bull Racing situation to decide if it was a route that the Enstone-outfit needed to consider.
"They [Red Bull Racing] are running a different set-up with more rake and we also went a different way, with a different philosophy, so we keep an eye on them, obviously, because you also look at the fastest cars on the track, especially when it's constantly fastest," he explained. "But we don't know if we will go this way or not."