Horner: Front wing complaints must stop
| | |
| --- | --- |
| By Jonathan Noble | Thursday, April 7th 2011, 13:47 GMT |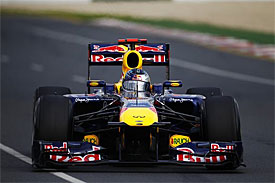 Red Bull Racing team principal Christian Horner thinks it's time rival McLaren gets a grip on 'simple mathematics' and stops complaining about front wing flexing of the RB7, amid renewed controversy about bending bodywork in Formula 1.
Although accusations that Red Bull Racing's front wing is flexing at high loads to help improve downforce have been around since the middle of last year, the FIA has never found anything wrong with the designs of Red Bull's cars either last year or this.
But that has not stopped fresh intrigue about what the nose of the Red Bull Racing car is doing at high speed - and McLaren's Jenson Button and Lewis Hamilton both raised questions about what the reigning world champions are up to in Malaysia.
Button said in the official FIA press conference in Malaysia on Thursday: "I know a few people that I have spoken to say it flexes more than what they expect is correct, but I haven't really spent much time looking at it."
Horner, who has repeatedly insisted that his team's car has always complied with the regulations, appeared frustrated on Thursday however when it was mentioned that McLaren's drivers have again cast doubt on the team's front wing design.
Grabbing a notebook from a table of reporters to help display why it appears from photographs that the front wing of the RB7 appears closer to the ground than other cars, Horner said: "Right, shall I explain it in very basic words how it works...
"McLaren have developed a car that has a very low rear ride height, and therefore a low front wing for them doesn't work. We run quite a high rake angle in our car, so inevitably when the rear of the car is higher, the front of the car is going to be lower to the ground.
"It is obvious science, and therefore our wing complies fully with the regulations. It will look lower to the ground because the rake in our car is higher. It is simple mathematics."
Horner said that it was not up to McLaren to decide whether or not Red Bull Racing was running a legal design - as that was a matter only for the FIA.
"We take it is a compliment to be honest as you," he said about the return of talk about his team's car design.
"I think our front wing has been tested more than any other in the pit lane and it complies with the regulations, and that is what we have to do. We don't have to pass a McLaren test, we have to pass an FIA one - and it complies fully with that.
"They [McLaren] have developed a car that is effectively a different philosophy to ours and so the benefit that we see from the front wing is different to the one that they would see from the front wing. That is the basis behind it fundamentally."
World champion Sebastian Vettel was also unmoved by the fresh talk about the front wing design - as he thought the issue had been laid to rest in 2010.
"To be honest, I didn't read a lot about that [the wing] in the last one and a half weeks, but when I heard that, I first checked the date and whether we were talking about 2010 or 2011," he explained, before cheekily making a reference to suggestions last year that Red Bull Racing had even been running an illegal ride-height control mechanism.
"I was a bit confused because I thought we had left that one behind, so I'm just looking forward to the ride height lever for qualifying! What do you want me to say? I haven't got much to say, to be honest. We run the car as we run the car, we had a good weekend in Melbourne and we focus on what's going on."