Schumacher predicts 'lottery' in Sepang
| | |
| --- | --- |
| By Jonathan Noble and Pablo Elizalde | Thursday, April 7th 2011, 12:29 GMT |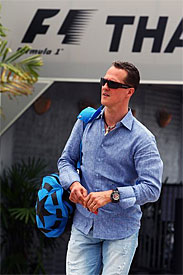 Michael Schumacher believes the Malaysian Grand Prix will be a lottery if rain hits the Sepang circuit as expected.
With the race starting at 4pm local time, heavy rain is expected to make an appearance again on Sunday, having already made for a chaotic event last year.
Schumacher reckons the situation will be made easier because the race is likely to start behind the safety car, but he still reckons it will be a very tricky event anyone could win.
"These days the 'lottery' is a little easier for the fact the race could start in these conditions," Schumacher told reporters in Sepang.
"Right now I would think you would have to start behind the safety car and in doing that, you are given the tyres you have to choose.
"Come the race and there are normal conditions, then you have to make decisions, and that is a little bit more of a lottery. It's difficult in terms of preparation because I had no rain running over the winter.
"I had a little in Barcelona, but it was so wet I couldn't run, so it's going to be an interesting experience for me if it happens the first time this weekend. I don't know the tyre variation between the intermediate and the heavy wet tyre, and for most of the people that will be the case.
"So it will be a nice lottery. Let's see who wins it."
The German said drivers had no choice but to accept the late start, even if it meant the chances of rain were higher then.
"According to Bernie he would have it any time in these conditions to make it more exciting - not that we have a lack of excitement. It is what it is - yeah, exactly," said Schumacher as as thunder boomed overhead at Sepang.
We don't hear that when we drive - so you get on with it. It is not done purposely to suit the weather, but as long as it is safe, then I don't mind. As I say, it is what it is."