Wilson hungry for WRC success
| | |
| --- | --- |
| By David Evans | Thursday, April 7th 2011, 07:46 GMT |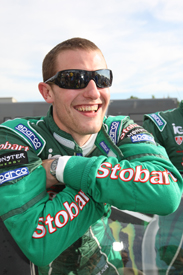 Britain's only full-time World Rally Championship competitor Matthew Wilson says he wants success in the sport more than ever.
Talking exclusively in today's AUTOSPORT magazine about his five-year plan for the WRC, Wilson admits he underestimated how tough it would be to come into the sport at the highest level.
The Cumbrian is now fighting for his survival in the WRC, with his current deal only running until the middle of this, his sixth, season in the championship.
"There's no doubt, the desire's there [to succeed in the WRC]," said Wilson. "When you've had something and almost lost it, you realise just how much you do want it. It's been such a fight to get here this year, but, believe me, I want this more than ever now."
Wilson's speed has improved with the move to 1600cc World Rally Cars and he says he feels he still has a lot to offer.
"We've done an awful lots of testing with these cars and that's helped me," he said. "In some ways, I came into the sport at the wrong time. You look at the time when there were six or seven manufacturers competing and there were more seats then.
"It's crucial that we sort get the rest of this year and next year sorted, there are manufactures coming back to the sport and we have good experience to offer."
Wilson said criticism of his progress through the last five years didn't bother him.
"If you listened that kind of stuff, you'd be pissed off every day," said Wilson. "At the end of the day, if that's what they want to twine about, then let them. But let's not forget, if they wanted to go rallying, they had the same chance as me. Okay, I had a leg up, but we've still had to bring the money to the table."
Wilson is enjoying his most competitive season to date, having run fourth on the last two rounds of the WRC.
He is seventh in the championship after steering problems cost him time on the opening round of the series in Sweden (he finished ninth), he retired with electrical trouble in Mexico and finished fifth last time out in Portugal.
For more, read this week's AUTOSPORT, also available in digital format here.