Grosjean quickest in Silverstone test
| | |
| --- | --- |
| | Tuesday, April 5th 2011, 16:50 GMT |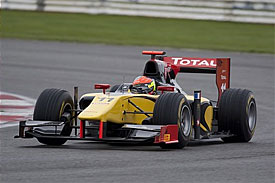 GP2 Asia series champion Romain Grosjean continued with his strong form ahead of the start of the main series by topping the times on the opening day of pre-season testing at Silverstone.
In cold, wet and windy conditions, the Frenchman finished with a time of 1m40.725s in the DAMS car, outpacing Arden's Josef Kral by over half a second.
Grosjean set the best time in the afternoon, when conditions improved and allowed drivers to lap the circuit some 15 seconds quicker than in the morning.
Rapax driver Fabio Leimer was third quickest, with Sam Bird in the iSport machine and ART's Jules Bianchi rounding up the top five. Bianchi had been fastest in the morning session.
The afternoon session finished eight minutes ahead of schedule, when Fairuz Fauzy lost control of his car. The session was not restarted after that.
The test continues tomorrow.
Morning times

Driver                       Team                       Time     Laps
 1.  Jules Bianchi           Lotus ART                  1:55.769   29
 2.  Jolyon Palmer           Arden International        1:56.146   22
 3.  Esteban Gutierrez       Lotus ART                  1:56.236   21
 4.  Charles Pic             Barwa Addax                1:56.244   29
 5.  Giedo van der Garde     Barwa Addax                1:56.496   22
 6.  Max Chilton             Carlin                     1:56.841   21
 7.  Luiz Razia              Team AirAsia               1:57.027   25
 8.  Johnny Cecotto          Ocean Racing Technology    1:57.270   21
 9.  Dani Clos               Racing Engineering         1:57.296   25
10.  Fairuz Fauzy            Super Nova Racing          1:57.452   19
11.  Oliver Turvey           Carlin                     1:57.472   11
12.  Romain Grosjean         Dams                       1:57.576   24
13.  Christian Vietoris      Racing Engineering         1:57.788   29
14.  Kevin Mirocha           Ocean Racing Technology    1:57.850   27
15.  Julian Leal             Rapax                      1:57.871   20
16.  Marcus Ericsson         iSport International       1:58.027   17
17.  Sam Bird                iSport International       1:58.289   19
18.  Michael Herck           Scuderia Coloni            1:58.293   40
19.  Rodolfo Gonzalez        Trident Racing             1:58.319   14
20.  Pal Varhaug             Dams                       1:58.439   30
21.  Davide Valsecchi        Team AirAsia               1:58.770   10
22.  Josef Kral              Arden International        1:58.048   21
23.  Davide Rigon            Scuderia Coloni            2:00.070   17
24.  Fabio Leimer            Rapax                      2:00.228   26
25.  Stefano Coletti         Trident Racing             2:00.299   13
26.  Luca Filippi            Super Nova Racing          --         2

Afternoon times

Driver                       Team                       Time     Laps
 1.  Romain Grosjean         Dams                       1:40.725   17
 2.  Josef Kral              Arden International        1:41.361   11
 3.  Fabio Leimer            Rapax                      1:41.480   14
 4.  Sam Bird                iSport International       1:41.525   14
 5.  Jules Bianchi           Lotus ART                  1:41.555   15
 6.  Christian Vietoris      Racing Engineering         1:41.639   15
 7.  Luca Filippi            Super Nova Racing          1:41.651   14
 8.  Julian Leal             Rapax                      1:41.781   15
 9.  Michael Herck           Scuderia Coloni            1:41.819   20
10.  Giedo van der Garde     Barwa Addax Team           1:41.900   13
11.  Oliver Turvey           Carlin                     1:42.103   17
12.  Johnny Cecotto          Ocean Racing Technology    1:42.147   17
13.  Stefano Coletti         Trident Racing             1:42.231   18
14.  Marcus Ericsson         iSport International       1:42.360   18
15.  Davide Rigon            Scuderia Coloni            1:42.376   21
16.  Dani Clos               Racing Engineering         1:42.399   16
17.  Davide Valsecchi        Team AirAsia               1:42.488   9
18.  Jolyon Palmer           Arden International        1:42.508   12
19.  Luiz Razia              Team AirAsia               1:42.509   16
20.  Charles Pic             Barwa Addax Team           1:42.929   13
21.  Esteban Gutierrez       Lotus ART                  1:43.125   14
22.  Pal Varhaug             Dams                       1:43.450   17
23.  Rodolfo Gonzalez        Trident Racing             1:43.479   18
24.  Fairuz Fauzy            Super Nova Racing          1:43.919   16
25.  Kevin Mirocha           Ocean Racing Technology    1:44.029   21
26.  Max Chilton             Carlin                     1:55.587   3