RBR: Melbourne driver gap a one-off
| | |
| --- | --- |
| By Simon Strang and Matt Beer | Monday, April 4th 2011, 13:38 GMT |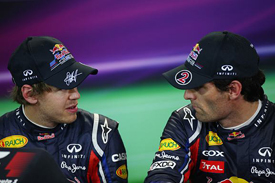 Red Bull team boss Christian Horner is confident that Mark Webber will be back on Sebastian Vettel's pace in this weekend's Malaysian Grand Prix.
There was a significant performance gap between the RBR team-mates in Melbourne, where Vettel took pole with a time 0.866 seconds quicker than Webber in third place, and then won the race while Webber could only finish fifth.
Horner said that while there was no significant mechanical problem on Webber's car, Red Bull had identified set-up issues that would have contributed to the speed gap and the higher tyre wear on the Australian's car.
"In the sort of post mortem on the event, we found a few things on Mark's car, a few things set-up-wise, that certainly wouldn't have helped Mark, and all those elements have been changed for Malaysia, where we'd expect the two of them to be much closer together. But there was no single issue that we could pinpoint," said Horner.
"I think there are elements that weren't right and the difference that we've seen between the drivers during the course of the weekend was bigger than it's ever been and not right, so I'm sure they would've contributed."
He also believes that Vettel has started 2011 in stronger form than ever before not he has achieved the milestone of a maiden title.
"Obviously expectation was building on him - 'you've got to do it this year, you've got to do it this year' - and I think that now having achieved that first championship, it's on his CV, that can't be taken away from him now and that's relieved a little bit of pressure," said Horner. "But obviously he puts a lot more pressure on himself to repeat it and defend it."
Horner denied that Vettel's form in Australia meant Red Bull was set to run away with the 2011 season.
"It's all very flattering, but we've only seen one sample out of 19 races this year," he said.
"There's still a long, long way to go and teams like McLaren - like we've seen - have made big, big steps forward in recent weeks. Ferrari aren't going to be sitting still.
"There's an awful long way, but it's the best possible start than we could have dreamed of."