Renault feels vindicated by podium
| | |
| --- | --- |
| By Jonathan Noble | Monday, March 28th 2011, 11:32 GMT |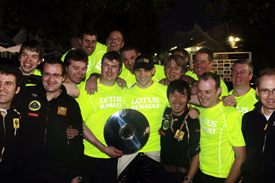 Renault boss Eric Boullier has admitted to a sense of relief at seeing his team start the season with a podium finish - following the gamble it took on forward exhausts and the loss of Robert Kubica.
Vitaly Petrov's third placed finish in Australia was one of the major surprises of the weekend – and proved that Boullier's faith in his design team and in re-signing the Russian driver was well placed.
Speaking about his feelings after the result, Boullier said: "I am proud, happy and relieved. We had a tough winter. We gambled very early last year on innovation on our car. Clearly it is a different concept and everyone is still scratching their head about the decision.
"We had a tough winter as well with Robert, so on top of all that it is a big relief to see that the tough work, the hard work, has paid off."
Boullier said he was delighted that Petrov had put in the best weekend of his career, as he felt that if the Russian had failed this year then he would had to shoulder some of the blame.
"It is good to see him reacting in a nice way," said Boullier. "He had a couple of very nice races last year, very promising, but also a lot of mistakes as well.
"I put a lot of pressure on him and we spent a lot of time discussing things. We put him in an environment where he could understand the English culture of F1 – what we expect from him and to help him grow up as a driver. It looks like we achieved something good for him."
Kubica's replacement Nick Heidfeld had a disappointing weekend, and was unable to do much in the race after he suffered major accident damage on the first lap.
And with Petrov having being regularly beaten by Kubica last year, there were some suggestions that Renault could have been in the hunt for victory in Melbourne if the Pole had been able to race.
When asked if he had spent any time wondering what might have been if his former driver had not injured himself rallying, Boullier said: "I did, but I refused to dig more. I said, 'just don't think about this'. I don't want to put it into my head because it is useless.
"So I close my mind for it. It is like people asking me if Nick would have qualified better. We did what we had to do, and we go for it."