Trulli 'shocked' by Pirellis' behaviour
| | |
| --- | --- |
| By Michele Lostia and Matt Beer | Monday, March 28th 2011, 09:44 GMT |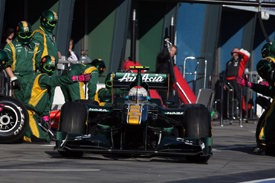 Jarno Trulli has criticised the Pirelli tyres again after the Australian Grand Prix, suggesting that the characteristics of the new rubber changed after the final tests.
Predictions of severe tyre wear and drivers needing to pit as many as four times did not come to pass in Melbourne, with Sauber's Sergio Perez even making it through the race with just one tyre change on lap 23 of 58.
But Trulli's Lotus team had issues with tyre warm-up, leaving the Italian frustrated.
"The most important thing to be said is that every result this weekend, whether positive or negative, has a common cause: the Pirelli tyres," Trulli wrote in a column for Repubblica.
"They've left us all shocked. I don't mean they were better or worse than we had expected, I mean that they were completely different: it's as if they have been changed since the last tests in Barcelona.
"During the winter all of us, in every team, have worked with tyres that would deteriorate immediately. It was a characteristic of the tyres, and there's been some polemics too. So we had thought the problem was to make them last long enough.
"Instead here in Melbourne we've found ourselves with tyres that had no durability problems, but in exchange for that they would struggle immensely to get up to temperature."
Trulli reckons Lotus was far from the only team finding it difficult to make the Pirellis work in Australia.
"If the tyres don't get up to temperature it's impossible to get the performance," he said. "During the race only two drivers had no problem getting the tyres up to temperature: [Lewis] Hamilton and [Sebastian] Vettel, second and first.
"Everyone else, some more than others, struggled. Even [Mark] Webber. In my opinion it's the same reason why Ferrari did badly in qualifying."
He added: "Problem is, the cause of this is unknown. You just need a tiny difference in the set-up, in the balance, in the track or air temperature, and even within the same team you get opposite reactions.
"Just think of Vettel and Webber: Sebastian dominated, while Mark at one point would lose two seconds a lap from Alonso. So, this is the real challenge: to understand how to use the tyres. I think it will be one of the key points of the season."
Trulli finished 15th in Melbourne, where Lotus had occupied its 2010 position ahead of Virgin but behind the other midfield teams.