Heidfeld worried about Q1 traffic
| | |
| --- | --- |
| By Jonathan Noble | Sunday, March 27th 2011, 05:17 GMT |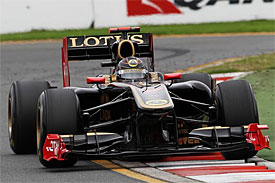 Nick Heidfeld thinks that the problems of traffic in Q1 could become a major worry throughout 2011, after a mix-up with backmarkers put him out of qualifying early on in Australia.
The German had high hopes of a strong performance for Renault, but failed to get a clean lap under his belt in Q1 and was knocked out straight away.
And after experiencing first hand the difficulties of slow cars on track in Q1, especially with such a big difference between the front and the back of the grid, Heidfeld says that the situation needs to be looked at carefully.
"It is difficult, which is why we have the 107% rule," explained Heidfeld. "They [the HRTs] were far away from that, and the speed they were doing was amazing.
"It is not dangerous in the first place, but it is difficult to get a clear lap in Q1. We have 24 cars driving around and, if you come up behind one of the slower cars, especially the HRT, then you would need to take a gap of eight seconds.
"So that is eight seconds of the circuit that is blocked because you have one slow car - and remember there are 24 cars going around.
"This is a worrying factor, although not really a safety issue, but it can spoil you. What might become worse is that, as we saw in winter testing, the tyres usually only lasted one lap.
"Here they last two or three laps so you could back off and try another time. But if it was like it was in Barcelona then that is it, and you have so few tyres available that it is easy to screw your qualifying."
Although starting near the back of the field, Heidfeld believes there is still a good opportunity to deliver a points finish - especially because there remains uncertainty about how the new 2011 rules will work.
"I expect to make some good use of the rear wing, hopefully be able to overtake some cars. My hope is that with this being the first time and first race on Pirelli tyres, and with the rear wing, nobody knows what is happening.
"Therefore I might have a bigger chance to gain something than late in the season when everything is settled in."