Rivals believe Red Bull still beatable
| | |
| --- | --- |
| By Jonathan Noble | Sunday, March 27th 2011, 00:20 GMT |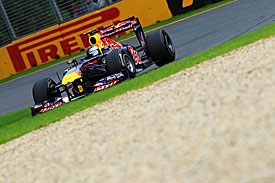 Red Bull Racing's rivals still believe they are in the hunt to topple Australian Grand Prix pole position man Sebastian Vettel in the first race of the season - despite admitting surprise at the speed the German showed as he grabbed pole position.
Vettel has been in scintillating form throughout the Melbourne weekend, and edged the rest of the field by eight tenths of a second in qualifying - despite not using his KERS during the battle for grid positions.
But even though that kind of advantage makes Vettel the clear favourite for victory, main opposition McLaren and Ferrari both think that the race itself may well prove to be a different story.
Ferrari technical director Aldo Costa takes heart from the fact that tyre warm-up issues his team suffered in Australian practice and qualifying will not be as significant a factor over longer race runs.
"For sure we expected to be much closer," explained Costa. "After Friday I would have said that it seemed very similar to last year, with Red Bull a few tenths faster than ourselves, then McLaren close to us. Ourselves and McLaren have been close in performance for the last four years - but then on Saturday there was this big difference. For sure I am surprised - surprised about the lap time that Vettel did, and the delta lap time compared to his team-mate.
"But on Saturday morning our car was not balanced. We were doing some modifications during Friday following set-up development that we had to do to correct the balance of the car, but on Saturday it was not as we expected so we went back and went into qualifying more or less with the same car as Friday.
"Then we were struggling with the hard tyres to find the correct warm-up, to find the correct grip, and the qualifying was all conservative, because we had to stay on the conservative side. We used one set of softs in Q1 and then we had one less set in Q2 and Q3. So, it was a consequence of what happened in FP3."
When asked if these issues should in theory disappear in the race – with history showing that Ferrari kindness to its tyres has proved beneficial on Sundays – Costa said: "We hope! In some years you remember it was one of our benefits, to have this kind of car. With a race simulation in Barcelona [testing] we were pretty happy with Fernando about the result, so we hope to gain some ground."
Lewis Hamilton, who managed to knock Vettel's team-mate Mark Webber off the front row of the grid, also sees plenty of opportunity to attack in the race – especially if Red Bull Racing does not have KERS for use over the whole race.
"Of course we are in a good position and from there, the plan is always to go forward or at least stay in the position I'm in," he said. "Being the first race, it isn't won at the first corner, so we have got a long race ahead of us.
"We have got good race pace generally compared to most of the competitors, maybe not as good as Sebastian's, but we generally have good starts. Last year we had the second best starts and I think we should generally be there or thereabouts if not better than last year, so the plan is to overtake in the beginning.
"I am on the dirty side of the grid but we have KERS – I don't know if they have got KERS, they didn't [in qualifying] – but I will be getting around the first lap clean and attack and attack and hope that, in looking after my tyres, I am able to jump in them in the pit stops. Let's wait and see."
Jenson Button, who lines up fourth on the grid, said: "It is going to be a very exciting race. There are so many variables – we have got the new tyres which are working very differently to how they were in testing, which makes it difficult to know how many stops to do.
"I think every engineering team on the pit wall will be looking at each other a little bit to see who is going to be stopping when, and what sort of strategy we have. It is going to be a tough time for the engineers and everyone on the pit wall.
"Not knowing the strategy before you go into the race is going to be very difficult, so we have to play it by ear and really enjoy the car we have at the moment. The race will be the longest run we have done with the car and it will be enjoyable to get a feeling for it and make changes during the race."
McLaren team principal Martin Whitmarsh reckoned that his team was still in the hunt for the win – and that the biggest factor could still prove to be tyre management rather than having the fastest car.
"They [Button and Hamilton] can win. It is a long race, they have both done impressive long runs and looking after your tyres, managing your tyres, making the right stop – you only have to be out there at the wrong time for one or two laps too long on a set of tyres and it is game over.
"It is very easy to get it wrong – not just these guys but us on the pit wall. We can get it wrong. We will try very hard not to get it wrong, and we have two great racers here. Seb in the Red Bull has looked impressively quick but Jenson had issues in qualifying, as did Lewis, and we could have been a bit quicker. We are a good race team, we have two great racers and our aim is to win the race."