Q & A: Chandhok on his Lotus deal
| | |
| --- | --- |
| By Jonathan Noble | Tuesday, March 22nd 2011, 10:17 GMT |
AUTOSPORT talks exclusively to Karun Chandhok after the Indian was confirmed as a reserve driver at Team Lotus.
Q. You've been confirmed as the Team Lotus reserve driver for this year. How did that deal come about?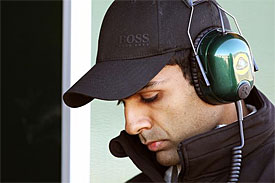 Karun Chandhok: I first started speaking to Tony [Fernandes] when he called me after the Monaco Grand Prix last year. He said he thought I had done a really good race, and that the team had been waiting for me to make a mistake for 35 laps with Jarno [Trulli] sat right behind me in a car that was a lot quicker. In the end Jarno ended up on top of me!
Then we started talking about where I could see myself going, and where he sees himself going, and I was straight away impressed about how he wanted to build his Asian team - with Asian drivers, an Asian team principal and having more of an Asian influence in personnel as well. That is how we got linked up. The deal took a little while to come, as things seems to take these days when you have multiple drivers, but we got there in the end.
Q. How important is this deal for you - in terms of being out there on track in a car again?
KC: I think the fact that they have straightaway stuck me in the car in Melbourne for FP1, shows that from both sides they are quite serious about having me on board. For me as well, this weekend in all honestly is not about being heroic. I haven't tested the car and I haven't driven the new Pirelli tyres. It is quite good that this is one of the rounds with an extra set of tyres, so it will be quite nice to get some miles underneath my belt and get to know the people and the car. This is a weekend for intelligence rather than heroics.
Q. You've seen the team operate during testing. What is your impression of the way it works?
KC: The team seems very, very driven. I think it has benefited from the partnership with Renault and Red Bull Racing. The packaging around the rear end of the car is fantastic. I knew the engine and gearbox package it had last year and I think Cosworth did a great job, but there were a few issues of reliability – especially with Xtrac. But when you look at the Red Bull gearbox, with its packaging and size, it is just incredible. Therefore the team can do the aero a lot better.
Operationally the whole thing looks very slick. The team is not at the level of teams like McLaren, Red Bull Racing and Ferrari, but it is certainly heading in the right way to be a midfield team – hopefully by next year. This year again will be tough, although with the tyre situation there could be a weekend where the ducks line up in the right way for them and it doesn't for one of the other midfield teams. Then they could be in with a shout. Just looking at the testing times they are looking more competitive than last year.
Q. How many Fridays are you likely to be doing?
KC: A fair amount. It still needs to be decided how many exactly – and I think there will be some juggling as [Davide] Valsecchi and [Luiz] Razia have been announced as well and they are doing some Fridays, so there is a little bit of juggling yet to do. But I will do some decent mileage this year.
Q. But it must be a no-brainer for you to do free practice in India?
KC: I guess so. There are a few details that need to be sorted, but I haven't had the chance to sit down with Tony [Fernandes] and Mike [Gascoyne] on the same table for the last month, so we will sit down this weekend and sort it out.
Q. How do you think the Indian fans will react?
KC: Indian motorsport has never had it so good. Two drivers involved in F1, with a team in F1 and a race happening. We are slowly chipping away, but we still need to get through the first race.
I am going straight from Australia to Delhi, as the second layer of asphalt is being put down so I am going to drive around it for the first time. They want me to drive it before anyone else. I'll be doing it in the road car, and it will be nice to drive on a piece of asphalt there properly. They have tweaked some of the corners and changed the width of the circuit based on Charlie [Whiting's] suggestions for overtaking. It will be interesting to see how that works out.
Q. Your role this season will probably make you busier than last year, when you only did the half season for HRT. Does it feel like a step up for you?
KC: Yes, it is nice because it feels like a team that has a little bit more structure to it. I will never discredit HRT because it gave me an opportunity to get a foot in the door of F1, and I will always appreciate it for that, but I think Lotus ended last year as the best of the new teams. Looking at testing times it also looks like it has made the best progress. So it is a step up as a team. For me, it is a chance also to learn from drivers who have done between them around 400 races. You just listen on the radio and you can pick up interesting things. They have so much experience, and hopefully I can benefit from that.
Q. One of the things that Tony Fernandes talks about a lot is the spirit at Team Lotus, and the passion of the staff who work there. Have you noticed that?
KC: I guess it's exactly what Jordan must have been like back in the day of the late-1990's. It was a smaller team trying to punch above its weight and everyone realised – okay, you have to do a bit more individually than you would do in a bigger team with more resources. That is clear to see at Team Lotus – everyone is really up for it. Also looking beyond this week, next month or the next six months – there is a much bigger long-term plan in terms of building the infrastructure of the team up. So, I think it is a great place to be at the moment.
Q. What it is like working with Tony?
KC: In a very short space of time, he has earned a lot of respect in the paddock. You speak to people in other teams, whether that is Williams or someone like Christian Horner, and most people have got a good word to say about him. But there have obviously been a couple of issues along the way. What I like about him is that he has achieved a lot with his airline and the other business, but he is just a normal bloke. I go down to his house in the afternoon sometimes and we gossip about people in the paddock, cricket, whatever. He is just a nice, nice guy more than anything else.
Q. Tony Fernandes is quite prolific on Twitter, as are you. Who is going to win that battle in 2011?
KC: I don't know! He is a bit more gutsy with his comments – and doesn't hold back his punches. I am a bit more diplomatic! I think I might win on volume then, but he will throw bigger punches here and there!