Pirelli: Tyres on course to thrill
| | |
| --- | --- |
| By Jonathan Noble | Monday, March 14th 2011, 17:32 GMT |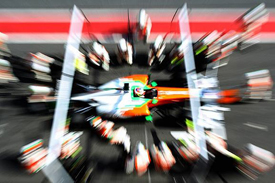 Pirelli is confident that its tyres are on course to help produce thrilling races from the start of the new season, following the latest data gathered from Barcelona testing last week.
Although there has been a focus in recent weeks about the degradation of the Pirelli rubber, warmer temperatures at Barcelona alleviated a lot of the earlier concerns from drivers - and have pointed towards a fascinating choice of tactics for the first few races.
Speaking about the lessons of last week's test at Barcelona, Pirelli's motorsport director Paul Hembery said: "It has given us the right signals that, when we do get the right temperatures, we will get back to data closer to our test results, which for us is fundamental.
"We saw some interesting race simulations in Spain, but teams are playing tactics - some of the comments that are being made do not match the strategies, and vice versa.
"What we have seen is there will be between a two and four-stop strategy developing, depending between the teams."
Hembery has conceded that the lack of hot weather testing over the winter means there still are some question marks about how the tyres will perform in the conditions expected in Australia and Malaysia. In particular, he is keen to find out how much a track rubbers-in with the Pirellis on a race weekend, as well as how many 'marbles' are produced.
However, he thinks the evidence already points towards there being no major problems - and that the varying strategies that are likely as the result of Pirelli's tyre design will produce a good spectacle.
"As far as we are concerned, we are delivering what we were asked to do - which was to try and create multiple pitstops.
"Two stops were what we were aiming for, and we are probably looking at an average of three at the moment. But that we will be verifying going forward.
"There have been many years where the sport has had multiple tyre and fuel stops, and many great races have been had when people have been a bit brighter with their strategy. Remember Michael Schumacher won many races in the past with the Ross Brawn combination of getting those calls right.
"So, if we can get that again, from the fans' point of view that will be exciting. And it will be very exciting if some teams are working on a two-stop and some are on a four-stop. Trying to work out how that will all pan out over the last few laps will be exciting as well."