Rahal 'has to win races' in 2011
| | |
| --- | --- |
| By Matt Beer | Sunday, March 13th 2011, 12:42 GMT |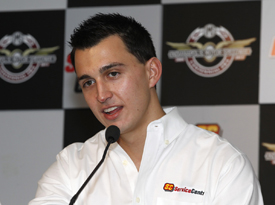 Graham Rahal says he will have no excuses for not getting among the IndyCar title contenders after his move to Ganassi's new second team for the 2011 season.
Ganassi - which has won the last three IndyCar titles with Scott Dixon and Dario Franchitti - has expanded to four cars this year with additional entries for Rahal and fellow young American Charlie Kimball.
Rahal has not won since his shock triumph for Newman/Haas in St Petersburg in 2008, his first start in the IndyCar Series following the merger with Champ Car, and he spent much of last year jumping between teams as a sponsor shortfall left him unable to contest a full campaign.
He admits that 2011 has to be the year when he becomes a regular winner.
"I think St Pete '08 was a long time ago, no doubt about that," Rahal said. "I don't think anybody wants to win in this organisation as badly as I do.
"I think we have to have a breakout season. I think we have to win races. We've got to be right up there with the Target [Ganassi] cars and the Penske cars all year. If we're not, I think I'd be very disappointed, but also pretty surprised."
Rahal pointed out that his 2009 season with Newman/Haas had been very strong and he could be considered unlucky not to have managed a win that year.
"I felt like 2009 was a breakout year for me. A lot of people have overlooked that," he said. "In 2009 it was very rare that we weren't in the top six in qualifying, very rare that we weren't right towards the front, right behind Ganassi and Penske during all the races.
"When I look at that, I certainly feel like we've got a better chance and opportunity this year. We've got better equipment, better personnel. My engineer, Martin Pare, is the same guy that will be with me now. He was with me in '09, as well."
The 22-year-old American hopes to get the season off to a fast start in St Petersburg, which was the venue for his first IndyCar pole in 2009 as well as his 2008 victory.
"St Pete has been a good place for me. I'm going to hope that we kick it off correctly," Rahal said. "Got my first win there, my first pole there. I think it would be a great way to start this year, by us having a very competitive showing there."