Cooling adjusted for Daytona 500
| | |
| --- | --- |
| By Diego Mejia | Saturday, February 19th 2011, 22:07 GMT |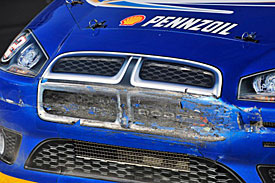 NASCAR officials have issued last-minute technical changes affecting the cooling of Sprint Cup cars ahead of Sunday's Daytona 500.
Following restrictions imposed to the front grille opening for radiators after last week's Budweiser Shootout, NASCAR has gone back slightly on its measures to give a bit more cooling to the cars when they race for the first time in a full field.
The maximum size of the opening had been set at 2.5 inches high by 20 inches long, which is what drivers raced with during Thursday's Gatorade Duel qualifying races. Thirty-seven drivers out of 43 also practiced for the final time on Saturday ahead of the race with the same parameters, which were modified following the session.
The new size for the grille opening will by 3 inches high by the same 20 inches long, handing teams back a bit more cooling for Sunday, when ambient temperatures are expected to raise relative to Thursday.
"It will just allow us to push for a bit longer, but it won't have a huge impact," a representative from a leading engine builder told AUTOSPORT. "It's going to be hotter tomorrow also."
Ford engines have been perceived to have an edge over rivals in cooling, as many equipped with Roush Yates engines have been able to push another car for longer than most before water starts boiling.
"Now it's really all about what the cylinder head and the block see for pressure and temperature," said Doug Yates. "That's the critical part. If you start boiling in that combustion chamber, then you have issues. I think, along with Ford, we've done a great job on our engine design and, hopefully, they're saying the same things after Sunday."
Two-car tandems have developed as the most efficient way of racing around Daytona, as events have proved so far at the recently paved 2.5-mile speedway. The new style of drafting has placed emphasis on engine cooling, and it is expected that little will change during Sunday's main event.
"I think with 43 cars tomorrow, you'll see 22 tandems," said Dale Earnhardt Jr, who earned pole position for the event but lost it while practicing last Wednesday when he was involved in a crash that forced him to a back up car.