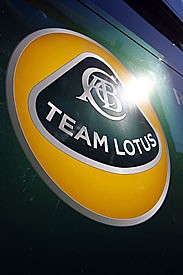 Team Lotus has hit back at Proton after the Malaysian car maker claimed the team had asked for a big sum of money to end their naming rights dispute.
As the public war of words continued between the two parties, Lotus issued a statement on Friday refuting claims from Proton, which had claimed in another statement on Thursday that Team Lotus boss Tony Fernandes had asked for up to £37 million to settle the naming row.
"The statement contained a number of factual errors that are at best misleading and at worst straight lies," said Lotus on Friday about Proton's claims.
"The case concerns the unlawful termination of 1MRT's licence to use the Lotus Racing name and Team Lotus Ventures' rightful ownership and usage of the Team Lotus name in Formula 1.
"Proton's statement contains a number of points that are designed to paint a very negative picture of the shareholders and founders of 1MRT and to cloud the truth ahead of the court case between 1MRT and Group Lotus, beginning in London on 21st March:
"Proton has now stated for the first time that 1MRT could have remedied the breaches in the licence agreement and continued to use the Lotus Racing name in 2011. None of this is true and is in direct contradiction to the reasons given at the time for termination of the Licence which said that the breaches alleged were not capable of remedy.
"Additionally, in a number of recent media articles it has become clear that the Renault F1 team were working on black and gold livery designs for their 2011 car in August 2010, well before the licence allowing 1MRT to use the Lotus Racing name was terminated.
"The only possible reason this livery was being planned was to promote Renault F1's sponsorship with Lotus Cars, using a classic Team Lotus F1 livery to cement their brands' relationship in the public arena. This begs the obvious question - If Proton were happy to allow 1MRT to continue to operate under the Licence and use the Lotus name, why were their employees at Group Lotus working with Renault F1 arranging a sponsorship deal which was in direct contravention of the exclusive licence given to 1MRT and using a livery so obviously owned by Team Lotus Ventures and not Group Lotus.
"Unfortunately Proton's assertion that 1MRT could have continued to use the Lotus Racing name in 2011 is made to avoid the obvious conclusion that Group Lotus was itself in fundamental breach of the 1MRT licence, as is proved by their own partners at Renault F1 telling the truth about when they started working with Group Lotus on their proposed sponsorship deal. Fundamentally Proton made it very clear that they no longer wanted to work with 1MRT and the facts of this will be borne out in the upcoming court case.
"Reference is also made to the sum of money offered to 1MRT for the Team Lotus name, suggesting that 1MRT shareholders were making unreasonable compensation demands of Proton. However, what Proton fails to mention is that the vast majority of the compensation sought by 1MRT was to cover the loss of FOM revenue awarded to the team for their efforts on track in 2010.
"1MRT asked Proton to indemnify them against the potential loss of prize money from FOM which would have resulted from 1MRT having to change its chassis name. The compensation sums being discussed for 1MRT leaving aside the FOM revenue were not overly generous, which is specifically why Proton has not included that in their statement yesterday.
"With the FOM revenue included the sums are reasonable - without referring to it Proton are able to paint 1MRT as greedy which is why they are deliberately excluding that key point."
New season.
New rules.
New cars.
New drivers.
Get ready for an F1 season like no other with unlimited access to the world's best motorsport journalism.
Get 10 free extra stories
Upgrade for free - and boost your monthly news limit instantly.
Register for free
Expert opinion.
Technical insight.
Unbeatable analysis.