Mateschitz: Driver rivalry will continue
| | |
| --- | --- |
| By Gerhard Kuntschik and Jonathan Noble | Tuesday, February 15th 2011, 11:12 GMT |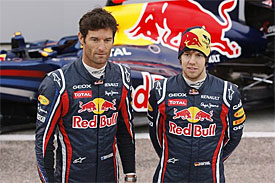 Red Bull chief Dietrich Mateschitz fully expects Sebastian Vettel and Mark Webber to lock horns again in 2011 in their battle for world championship glory.
The pair endured a sometimes troubled relationship throughout last year - which included an on-track collision in Turkey and accusations of in-team favouritism - but cleared the air with a post-season talk in Abu Dhabi.
With just a few weeks to go before the new campaign, however, Mateschitz says he thinks Webber and Vettel's rivalry will be just as intense this year – as he made it clear they will both be free to fight it out on track.
"Sebastian is fully motivated, and Mark nothing less," Mateschitz said in an interview with AUTOSPORT. "They won't exchange gifts. Therefore I expect a similar situation to last year. And they remain both free to race. We do not change our strategy."
Mateschitz believes that Webber has what it takes to pose a serious threat to Vettel – and questions why there has been speculation that the Australian could retire at the end of this season.
"Why should he? He has a body of steel, and he is mentally in perfect shape," he said. "If he does not continue with us, he will be offered a contract somewhere else. He is a top driver, at the same level as Sebastian. They both are exceptional guys, and this includes characters."
When asked if he was disappointed that Webber kept it secret from the team at the end of last year that he had suffered a shoulder injury prior to the Japanese Grand Prix, Mateschitz said: "Not at all. He is a 100 percent professional athlete and is always giving his best."
Mateschitz thinks the battle for the world championship is wide open – but concedes that it may well prove harder for Red Bull Racing to defend its title than it was to win it.
"For the first time we are the hunted ones and not the hunters, which is a new experience. To achieve something in F1 is easier than to maintain it. I don't want to make any forecast for 2011, as it is much too early. Every team will have different cars with updates until Bahrain."