Alonso: Passing just as hard in 2011
| | |
| --- | --- |
| By Jonathan Noble and Michele Lostia | Monday, February 14th 2011, 11:55 GMT |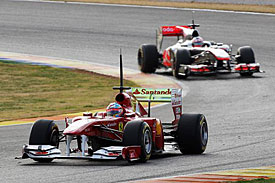 Fernando Alonso thinks overtaking in Formula 1 is going to be just as hard in 2011 as it was in previous seasons - despite the introduction of the moveable rear wing.
F1 teams have been experimenting with the new wing in early pre-season testing, although how much of a difference it will make to the spectacle is unlikely to be realised until the first race of the campaign in Bahrain.
As AUTOSPORT exclusively revealed earlier this month, drivers will only be able to use the wing in a 600-metre zone at the end of a track's main straight if they have got within one second of the car ahead of them at a set point on the track.
The FIA is open to lengthening or shortening the overtaking zone to ensure that that overtaking is possible, without it being too easy.
Alonso believes, however, that irrespective of the length of that overtaking zone, the competitiveness of cars at the front of the field is still not going to make things easy for drivers.
"If the car ahead of you runs only one tenth slower than you, then the moveable wing is not enough," Alonso told Gazzetta dello Sport.
"It can be useful to overtake a car that is one or two seconds slower. Maybe the rule's objective is to favour an overtaking move when a race gets ruined by the impossibility of passing a much slower car, as happened to me with [Vitaly] Petrov in Abu Dhabi. Overtaking between front runners will be difficult in 2011 too."
Alonso's world championship chances last year were scuppered when he got stuck behind Petrov at the Abu Dhabi Grand Prix and could not find a way past.
Williams technical director Sam Michael believes that the 600-metre zone limit will make life hard for drivers – although he thought it was right to approach the situation from a conservative starting point.
"I don't think it [the 600 metre distance] will be very effective," said Michael. "It has to be much longer than that.
"For it to be effective, you have to have it for the entire straight. But it depends what you want to do. If you want to have an overtaking move that is just impossible now, to just about possible, than that will do it. I don't think you'll ever get to the position where people just drive past; it's just not strong enough to do that."