Button: Pirellis to produce fun racing
| | |
| --- | --- |
| By Jonathan Noble and Steven English | Friday, February 11th 2011, 17:17 GMT |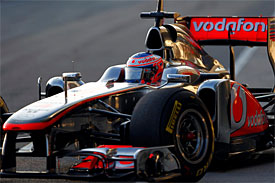 Jenson Button believes that Pirelli's new tyres are going to make the racing 'fun' in 2011 - as he had his first test on the rubber with his new McLaren MP4-26.
The former world champion is already optimistic that the characteristics of the tyres will suit his driving style this year - but he also thinks the nature of the tyres is really going to spice up the spectacle.
"There are big differences from the hard through to the medium, to the soft and super soft," he said at the end of testing in Jerez in Friday. "Big differences in terms of laptimes but also in terms of durability, degradation.
"It's going to be fun for racing. I know the soft is changing considerably but the other tyres are staying pretty much the same. I think it's what everyone wanted - tyres that are very different with quite a big gap between all the tyres.
"The viewers will know, and we'll all know, the differences between the tyres and I think it's good that people can all see that."
He added: "I've heard that people are finding a second from soft to super soft tyres, half a second from soft to medium, and half a second again from medium to hard. There's a lot of difference between the tyres so if you don't run one and you run one the next day you see a big difference in pace and competitiveness, so it's very difficult to know anything."
Button also spent some time on Friday experimenting with the new moveable rear wing - which he thinks is going some getting used to.
"I tried it a couple of times - not in anger, just to make sure it's working," he said. "It's just like pushing the KERS button, the extra boost you get from it.
"I sat behind the Renault on the main straight while he was adjusting it and I didn't realise quite how quickly it was going to move. It's an amazing bit of kit.
"It's comedy following someone using it because it just looks wrong, the rear wing moving like that - it looks like something has fallen off. It's going to take a bit of time to get used to it, but we'll get it pretty quick. The KERS I feel like I'm at home with already but I'm sure the rear wing is going to take a little bit longer."
Button expects to push his new McLaren a bit harder when he returns to the cockpit on Sunday, having spent much of Friday on evaluation runs.
"We haven't done a lot of set-up work to be fair, " he said. "We had a big change over lunch that took a long time, an hour and a half/two hours out of the day gone. But mostly it's just been small set-up work.
"There were a couple of changes at the end that were positive, I'm really happy with the progress we made at the end of the day.
"We haven't set the world alight but we've collected some data - it was important to do that. And Sunday we can have a crack at really seeing what the car can do."
He added: "I haven't got a clue where we are really. The important thing is that the basic balance of the car is reasonable and something to build on. Nothing stands out as an area we're weak. We're not weak."