Virgin targeting established teams
| | |
| --- | --- |
| By Jonathan Noble and Steven English | Monday, February 7th 2011, 13:16 GMT |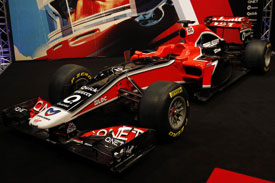 Virgin Racing can go into its second Formula 1 season expecting to compete against the more established teams on a more equal footing this year, believes team CEO Graeme Lowdon.
Speaking at the unveiling of MVR-02 in London today, Lowdon explained that with a season of experience under its belt and a significant investment from title sponsor Marussia, Virgin is well placed to challenge teams such as Force India and Toro Rosso.
"We put together a really good team of people and we are no longer a new team now," Lowdon said. "We're going into our second season as fully-fledged F1 team, that
is our mentality, that is our approach."
Lowdon added that the team learned lessons from its debut season and says its deal with Marussia will provide the resources to take Virgin forward.
"There were some aspects we didn't know what to expect, so none of that could be a surprise -it was F1, it was supposed to be difficult," he said. "It's not meant to be easy, but the secret of my grey hair is I am a Newcastle United fan and I have an inbuilt optimism. That is what got me through.
"Marussia were there at launch in 2009 and were a sponsor through year. They had good chance to see how we worked, they shared the ups and downs - and there were some downs. After that, they still have the commitment to take significant investment in the team.
"As a new team, there's no point in trying to come in with the same business model as Ferrari, McLaren or Mercedes - they have been doing it a long time. We needed to take a different approach."