Berthon replaces Stoneman at ISR
| | |
| --- | --- |
| By Peter Mills | Friday, February 4th 2011, 10:49 GMT |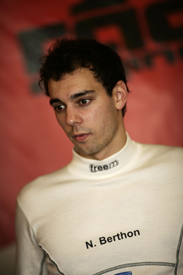 Leading Formula Renault 3.5 team ISR Racing has reached an agreement with Nathanael Berthon for the 2011 season.
The Czech squad has signed the Frenchman to partner Toro Rosso Formula 1 reserve driver Daniel Ricciardo, after the team's original signing Dean Stoneman was diagnosed with testicular cancer.
Berthon enters his second year of Formula 3.5 after a promising rookie campaign with Draco in which he won at Magny-Cours and claimed four podiums. The 21-year-old from Beaumont raced in the Formula Renault 2.0 Eurocup during 2008 and 2009 and will commence a GP2 Asia campaign shortly with Racing Engineering.
ISR owner Igor Salaquarda commented: "I would firstly like to express our support to Dean Stoneman, hoping to welcome him back with us soon. After his forfeit, we spoke with Nathanael, who was already well known to us as having raced with one of our rivals in 2010.
"During his first season he displayed great talent, and ended as one of the best rookies in the championship. We are really happy to have agreed terms with him and to count on his speed and talent for 2011. Thanks to Ricciardo and Berthon we will have an incredibly talented line-up with us. Both of them surely having a bright future in motorsports."
Berthon also offered a get-well message to the 2010 Formula 2 champion.
"I want to wish good luck to Stoneman too, and I hope to have him back as a rival as soon as possible," said Berthon. "When I saw the opportunity to join I.S.R. Racing I had no doubt that this was the best choice for my career.
"Thanks to the interest showed by Mr. Salaquarda, we immediately found an agreement, which I consider extremely positive. I will be at my second season in the World Series by Renault 3.5, therefore I can't wait to be on-track and get back all the experience done in 2010."
ISR finished runner-up in the Formula Renault 3.5 teams' championship in its maiden season in 2010. Esteban Guerrieri claimed a record six wins on his way to third in the drivers' standings. The Argentinean's team-mate, son of Igor, Filip Salaquarda will compete in Superleague in 2011 with AtechReidGP.