Drivers predict very high tyre wear
| | |
| --- | --- |
| By Jonathan Noble | Wednesday, February 2nd 2011, 20:37 GMT |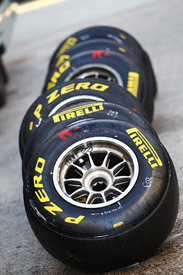 Formula 1's leading drivers are predicting tough times in dealing with tyres this year after witnessing high levels of degradation with the new Pirelli rubber in testing at Valencia.
As a number of teams got down to work with their 2011 cars this week, matters have been complicated by a big lap time drop-off on the softer rubber - which has been so large that it has raised some worries of potential tyre chaos in races if the situation does not improve.
Fernando Alonso said: "It was not easy to keep the tyres consistent. We see some drop in the tyres when they are new. The first lap is good and then you lose two or three seconds a lap. Then you are more or less consistent but obviously too slow.
"We are trying some new solutions in terms of set-up to get some consistency. This afternoon we were happy with the long runs we did, so obviously it's a concern for everyone, but there is a way in the set-up and driving style, etc, to be a little bit gentler with the tyres."
Robert Kubica said he thought that the tyre degradation seen at Valencia was too extreme – although he acknowledged the weather conditions and track characteristics could be playing a factor in making the situation more extreme.
"Yes, it's too big," he said. "At least if you want to have a five or six-stop race then it is okay, but then we will need more tyres! I am joking.
"It really depends on which compound but clearly the situation improves with the harder compound. But it is not a problem of graining, it is wear. Suddenly the tyres are gone.
"You have to really watch because in the races there is always the tendency to stay [out] longer and we have to watch out for safety, because if a tyre explodes that is the last thing you want to see."
He added: "I think the real first test will be Bahrain for the tyres. I hope the situation will be better, but if it is like this it will be challenging – and it will give you something more to think about set-up and how to make the tyres last longer. It is something you have to consider seriously and work on it. There are many ways to make the tyres survive and work better with the car."
Mercedes GP's Nico Rosberg thought that although the tyre degradation was an issue, he reckoned it could prove to be a factor in making the races more of a spectacle.
"I am not concerned," he said. "It will make the racing more exciting. We have seen in the past that the most exciting races were when the tyres collapsed in the biggest way, like Montreal last year, so that is not an issue.
"The important thing is that we then have a good car because if you have a good car you can make the best of such degradation on the tyre."
When asked if the degradation was as great as last year's Canadian GP, he said: "No, not quite as bad. Montreal with the graining was extremely bad and we are not seeing graining at the moment."
Lewis Hamilton, who was concentrating on tyre testing with an interim 2010 McLaren, also believed the situation would be good for racing.
"Now it looks like there is a quite a big difference between compounds, or so it seems for some people. For us I don't know if there was too big a difference," he explained.
"Obviously last year we had one pitstop and now the degradation is massive on these tyres and it might be for some people that they have to do two or three pitstops – which I think is quite good.
"I didn't actually like doing one pitstop last year, I didn't think it was as exciting as it was in the past when we did two or three. I'm hoping that we have to do more this year, because it adds more excitement."