Renault to give junior drivers F1 mileage
| | |
| --- | --- |
| By Steven English and Jonathan Noble | Monday, January 31st 2011, 17:06 GMT |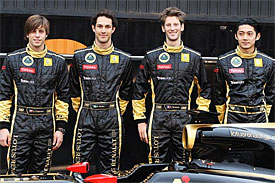 Renault plans to give its academy drivers Formula 1 mileage in older-spec cars this season.
The team unveiled five reserve drivers along with its R31 car at Valencia today, with Bruno Senna and Romain Grosjean joining the previously-announced Fairuz Fauzy and retained back-ups Ho-Pin Tung and Jan Charouz.
Team boss Eric Boullier says he always planned to have a deep roster of drivers this year, and that the Renault academy is intended to prepare these drivers for racing in Formula 1 should the opportunity arise.
"We didn't just ask for a blank cheque from everybody, the strategy is clear," Boullier said. "We want to do the Ferrari academy concept.
"They are using their third driver, but also the winner of F3 or something, in a two-year-old car. We are allowed to do this."
Boullier says former Renault reserve driver Jerome D'Ambrosio is the template for what he wants to achieve with the academy.
"The idea is based on my experience with D'Ambrosio," Boullier said. "I tried to fit him inside the team as much as possible - he was driving the car during the WSR [World Series by Renault event demos], during promotion days and city demos.
"At the end it paid off because when he tested for Virgin, they were very impressed that he could adapt and was capable to give good feedback. He impressed this team when he tested during the rookie days in Abu Dhabi - they were amazed about how the guy could feel in the car. So I decided to go further with the concept and to give kids, if I may say they are kids, some time within an F1 team."
He added that each of the reserve drivers will have a chance to prove themselves worthy of a race seat through the academy.
"We will be using a two-year-old car to do some driver development," he said. "It is a full assessment programme for some of them. For others, like Bruno, it is to keep close to F1. It is also to convince us that some kids are ready for F1, because they will be the next ones for the future and I want them to be ready."
Boullier also revealed that Senna is first in line to stand in for one of the race drivers if required, while Grosjean's priority this year is GP2.
"I will give [it to] the one who is ready, and Bruno is the most ready driver," he said. "Romain, there is more a strategy to put back a French driver - it is part of the plan - but he has to commit to things beforehand, and GP2 is one."