Senna aiming for race seat in 2012
| | |
| --- | --- |
| By Simon Strang and Steven English | Monday, January 31st 2011, 13:59 GMT |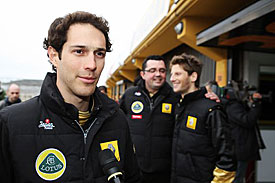 Bruno Senna is aiming to use his time as Renault's third driver to convince the team he is worthy of a race seat in 2012.
The 27-year-old Brazilian, who raced in Formula 1 for HRT last season, said at the launch of the team's R31 at Valencia on Monday, that while he did not know whether he would get the opportunity to drive the car during Friday practice sessions he hoped that the tests he conducted in the old car would convince Renault of his potential.
"I think it's a pretty good deal," said Senna. "We had some conversations about being an official driver in other teams, but it turned out from what we could muster that this was the best option.
"I am third driver and I'll be following the team at every race. I will do some tests with the old car, some technical tests - like straight-line testing - for the team. Then hopefully if there is a spot opening to do some Friday testing, but that's not certain.
"I hope that I can drive sometimes on Fridays, I really wish to have a taste of this car sometime. But it's up to the team. In the end it must be beneficial to the team. They need to win races and to be competitive this year so there's no point in getting someone else intruding on them.
"I need to push as hard as I can to learn much more than I could learn last year, technically. Then hopefully have an opportunity next year to be in the race seat," he added.
"It will depend on how I can use this opportunity to create the image of course. Being a third driver nowadays doesn't give you the opportunity to drive the car very much. I will have the opportunity to drive the old car a few times, which is good. The integration with the team will help a lot.
"A lot of how things are in Formula 1 is the personal relationships. And if I get an opportunity to drive the car a bit, I'm sure I can convince them of what I can do and hopefully get an opportunity for the future."
Senna said that just working within the team during grands prix weekends would help him develop as a driver and that he intended to use the chance to work with an established team to build on the experience he gained with HRT.
"For me being here is a great thing because I'll be learning from great people with so much experience - they have been world champions in the past. It's essentially the same team. I think the learning curve is going to be very steep here, learning from good drivers as well, from Robert and Vitaly.
"For me being a third driver at a team that has won titles before and has all the experience, it can only be beneficial for me. I can only learn a lot from this.
"Technically I will be seeing the engineers and the drivers, learning how they work with that - it's going to be the first time I'm going to be part of a big team, I've never been part of a big team before. And it's preparation, it's all about preparation for me, so I guess when or if I have the opportunity to drive the car as a first driver I will be much more at home."
Senna added that he does not currently have any plans to race elsewhere this season but suggested when asked that he would not be averse to returning to sportscars - in which Renault sponsor Group Lotus has programmes in several categories. "Maybe," he said. "It mustn't clash with the Formula 1 - that is the priority.
"Anything I do I must still be strictly focused on Formula 1 as my main focus," he added.
"At the moment [there are no plans for anything else]. It's been a very late deal, this was the first priority to sort out. Now we have sorted it out we can start looking at what else we can do. But you know it's 20 races during the season, it's not going to be easy to find something else in the between time."
Asked about the links to the team's black and gold livery, similar to that sported by his uncle Ayrton in 1985 and '86, he replied: "It feels great. For me it's extremely special to be linked with the Lotus car and the colours.
"Who doesn't remember Ayrton with the black and gold car? If it's special for other people, it's special for me."