Ferrari boss calls for F1 rules rethink
| | |
| --- | --- |
| By Jonathan Noble | Friday, January 28th 2011, 10:33 GMT |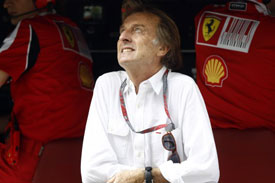 Ferrari president Luca di Montezemolo has renewed his calls for a rethink on the future direction of Formula 1's regulations - claiming the sport should not just be an 'aerodynamics' competition.
Di Montezemolo spoke out before Christmas about being unhappy with a future move to 1.6-litre turbocharged engines - and now he has called for other revisions to the sport's framework.
In particular, he appears unhappy about F1's continuing in-season testing ban - which puts a greater emphasis on teams' computer simulation and wind tunnel technology.
"We will have to work together with the [FIA] for an improvement of rules and regulations," di Montezemolo said at the launch of his team's new F150. "I don't think it is possible that it is the only professional sport where it is not possible to train.
"We need to avoid that F1 only becomes an aerodynamic test. We are not in the satellite world; we are not in the aerodynamic world. We need to leave the space to the mechanics and the engines. We need stable rules, but we should contain the DNA of F1.
"That means maximum technology, maximum performance and innovative technology - and also to anticipate what will be the transfer of technology to GT cars. It will be useful to get back to KERS, which opens a very important perspective for GT cars."