No room on calendar for Rome - Ferrari
| | |
| --- | --- |
| By Michele Lostia and Matt Beer | Friday, January 14th 2011, 19:58 GMT |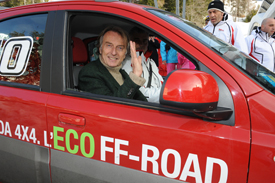 Ferrari president Luca di Montezemolo believes it is better for Formula 1 to visit new nations than to add a street race in Rome to its calendar, as the Italian city's hopes of hosting a grand prix fade.
Rome has been pushing for an F1 slot for some time, but it emerged earlier this week that F1 supremo Bernie Ecclestone had informed the city's mayor that countries would no longer be allowed to host more than one grand prix per season - and with Rome having declared that it wanted to be a second Italian event rather than usurping Monza's place on the schedule, its chances of getting an F1 date now seem extremely slim.
Speaking at the Wrooom media event in Italy today, di Montezemolo said that the decision was no reflection on the quality of Rome's proposal, but that the teams were agreed that the calendar should not expand beyond this year's 20 dates, and that new territories had to be the priority for any additions to the schedule.
"If you remember our dinner at Maranello, I said that the general feeling by the car manufacturers and also the teams was not to go above a certain number of grands prix, which are already so many - the season never ends," he said.
"And most of all that the preference was for having races in new countries, new markets, first of all the United States, but not just that, there's Russia, there's India, instead of having two races in Germany or Spain, or eventually Italy.
"So it's not a failure for Rome, but it's just a matter that the general desire is to have one grand prix [in each country], so we can't stage two races in Italy. Beyond that, it's most of all an Italian problem to decide where, while keeping in mind Monza's historical role."
He said he was open to the possibility of the Italian GP alternating between Monza and Rome if that proved acceptable to the two venues, provided Monza's position was not put at risk.
"This depends on whether it's fine by Ecclestone, whether there are the conditions, whether Monza and Rome are fine with it," di Montezemolo said.
"What's certain is that two races can't be held in Italy. That's it. And Monza remains a historic and permanent grand prix.
"However, all paths are possible and open."