Ferrari shrugs off Red Bull's criticism
| | |
| --- | --- |
| By Jonathan Noble and Michele Lostia | Friday, January 14th 2011, 19:39 GMT |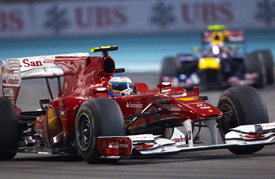 Ferrari president Luca di Montezemolo has said he is unruffled by criticisms aimed at his team by Red Bull Racing - suggesting his rivals are simply not yet used to behaving like winners.
Red Bull motorsport advisor Helmut Marko last week told the German media that he felt Ferrari was trying to steal his outfit's spirit - after trying to lure a number of its staff members.
Di Montezemolo had noted those comments – but said that Red Bull did not deserve a response because the outfit had won not a fraction of what Ferrari had in F1.
"I notice with pleasure that there are some small polemics," he told the media during Ferrari's Wrooom event in Italy on Friday. "I see with pleasure that someone has won a world championship and maybe he isn't yet used to win, as far as his behaviour is concerned.
"But this is part of the game, it's okay. Maybe when someone has won 10 per cent of what Ferrari has won, we'll reply. For now we look ahead calmly: may the best win."
The comments about Red Bull Racing come against the backdrop of renewed focus on the championship-winning team and whether or not it overspent in 2010 – and broke Formula 1's Resource Restriction Agreement.
Di Montezemolo said it was important not to jump to conclusions on what rivals had been up to – but claimed the situation was proof that cost caps would never work in F1.
"I take note of what I have heard and read [on the RRA], but I don't know whether this is true or not," he said. "If it is, then it would demonstrate Ferrari's stance of being against that delirious idea of a cost cap, because it's impossible to police it, especially when multinational companies are involved, who have the possibility of manufacturing in different countries.
"I think we need to have expense limits through regulations and not through a cost cap, because that's extremely difficult to keep under control. However, I repeat, I don't know if it's true that Red Bull has overspent, I don't know if it's true that McLaren did that.
"I think there's little chance to check, so it's better not to have these wrong, anachronistic limitations. It's a bit like telling a football team not to spend more than a certain amount. We must realise that F1 is the pinnacle of competition. We need to invest in technology and have regulations that limit expenses, but not through a budget."
Despite the bickering over the RRA, and controversy over HRT's departure from FOTA, di Montezemolo still thinks that there is a good team spirit in F1 – and that it is vital all parties work together to try and help grand prix racing.
"A sport like F1 must have three big reference points: the federation, as the sporting authority that enforces the regulations; the commercial part, who has the commercial rights, which is headed by [Bernie] Ecclestone; and finally a league of the various teams, which represent the teams' interests.
"It's important to have this dialogue: it seems things have brightened up. There's still the fundamental problem: F1 must remain an extreme sport at the pinnacle. It has to keep these characteristics, and this is why we need to be careful not to have a big gap between big and small teams.
"[Anyone] who races in F1 knows he needs to invest while limiting expenses and having regulations that allow for that, but that's what F1 is about."